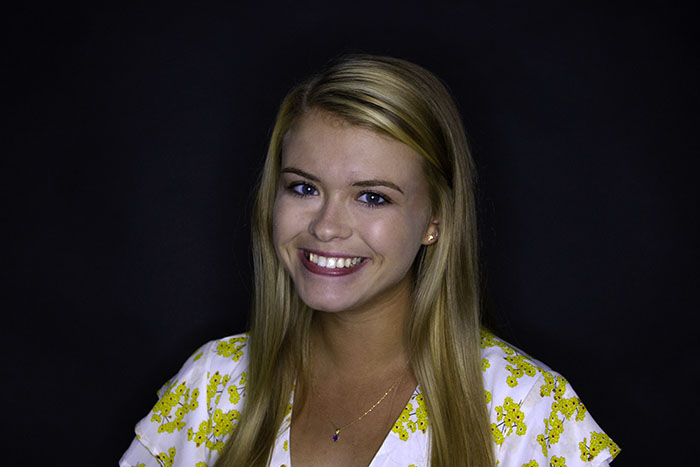 Sarah Barber is a senior at DGS and is in her second year on staff. This year, she is the Online Co-Editor-in-Chief of the Blueprint. In addition to journalism, Barber competes with the DGS varsity speech team and is involved with Operation Snowball, Mad Dash and masque and gavel. 
In the future, Barber hopes to attend either Boston College, Villanova University or Northeastern University. As of now, she is undecided in the field of liberal arts, leaning towards international relations, criminal psychology or pre-law. 
Outside of school, Barber works over the summer at Cypress Cove Family Aquatic Water Park as a lifeguard and swim instructor, additionally, she volunteers at Feed My Starving Children. When she isn't working or studying, Barber can be found spending time with her family, thinking about work she hasn't done yet and organizing.
Sarah Barber, Online Co-Editor-in-Chief
May 08, 2020

Behind the Zoom screen: How teachers are coping with remote learning

(Story/Media)

May 05, 2020

Hulu's 'Little Fires Everywhere' brings the heat

(Story/Media)

Apr 14, 2020

Our crucial civic responsibility: Social distancing to flatten the curve

(Story/Media)

Mar 25, 2020

Baylor bound: Equestrian Tatum Mitchell commits to division I university

(Story)

Mar 18, 2020

Leinart reigns supreme: Legally blind swimmer wins state, breaks records

(Story)

Mar 09, 2020

Ross, Ricketts, Marquee Sports Network: 2020 to be tense year for Chicago Cubs

(Story/Media)

Mar 03, 2020

Weekly Preview: March 2-6

(Story/Media)

Mar 02, 2020

I have senioritis — when I want to

(Story)

Feb 26, 2020

Multiple DGS student athletes commit to college teams

(Media)

Feb 10, 2020

Conference classic: Mustangs fight for 56-51 win over Hinsdale South

(Story/Media)

Feb 03, 2020

Weekly Preview: Feb. 3-7

(Story/Media)

Jan 28, 2020

Student diversity is shown through the different languages at DGS

(Story)

Jan 22, 2020

Mustang basketball picks up speed with 57-40 conference win

(Story/Media)

Jan 17, 2020

Woodridge village board authorizes lot subdivision, resurfacing resolutions

(Story/Media)

Jan 15, 2020

Girls varsity basketball fights to 53-51 win over Addison Trail

(Story/Media)

Jan 07, 2020

Weekly Preview: Jan. 6-10

(Story/Media)

Dec 10, 2019

Top 10 most ridiculous Christmas songs

(Story/Media)

Nov 22, 2019

DGS girls swim team makes waves through the record books

(Media)

Nov 15, 2019

10 Mustangs sign national letters of intent to compete at division I schools

(Story/Media)

Nov 07, 2019

Discover what fruit you are

(Story/Media)

Oct 31, 2019

Rau twins commit to play Division III softball at UW-Oshkosh

(Story/Media)

Oct 24, 2019

Girls cross country strides towards end of season, starting with IHSA Regionals

(Story)

Oct 18, 2019

Applying to college: What you might not know and where to start

(Story/Media)

Oct 17, 2019

Brindza swings her way to state, into DGS history

(Story/Media)

Oct 11, 2019

Girls swim and dive honors seniors, beats DGN at final home meet

(Story/Media)

Oct 09, 2019

Let your horoscope decide which fall treat you should try next

(Story/Media)

Oct 05, 2019

The stress of college applications is in full swing

(Story)

Oct 03, 2019

The College and Career Center needs to get its supporting documents in shape

(Story/Media)

Oct 03, 2019

Medina makes his mark: Sophomore becomes first male flyer in DGS history

(Story)

Sep 26, 2019

Intruder safety drill encounters technological difficulties

(Story)

Sep 17, 2019

The Head and The Heart 'Living Mirage' tour was an apparition in and of itself

(Story/Media)

Sep 10, 2019

Top 10 Tuesday: The worst things about homecoming season

(Story/Media)

May 08, 2019

Horoscopes to describe your summer

(Story)

May 01, 2019

Breaking up with junior year

(Story/Media)

Apr 23, 2019

Discover your spirit animal with Sarah & Tatum

(Story/Media)

Apr 17, 2019

AP exams: My 'always pushed' classes torture me

(Story/Media)

Apr 11, 2019

Discover your style icon with Sarah & Tatum

(Story/Media)

Apr 09, 2019

Mustangs stampede over Red Devils 3-0

(Story/Media)

Apr 03, 2019

Q & A with Division I hopeful Jack Blazevich

(Story)

Mar 22, 2019

Caldwell appointed head track coach after long run with DGS program

(Story)

Mar 22, 2019
Mar 22, 2019

Ultimate frisbee seeks redemption after loss at state

(Story)

Mar 20, 2019

DG girls' lacrosse sticks it to Minooka with 17-5 win

(Story/Media)

Mar 08, 2019

Village of Woodridge bimonthly board meeting passes rezoning resolution

(Story/Media)

Feb 27, 2019

Mustangs stampede over Batavia 84-52 in regional semifinal

(Story/Media)

Feb 26, 2019

'Green Book': White-washed film wins Best Picture

(Story/Media)

Feb 20, 2019

Best spring break destination based on your sign

(Story/Media)

Feb 08, 2019

From DG to GB: junior Addy Karmik commits to play Division I volleyball

(Story)

Feb 08, 2019

Village of Woodridge bimonthly board meeting honors four village employees

(Story/Media)

Feb 08, 2019

Freshman Friday: Suheily Gomez

(Story)

Feb 01, 2019

What Netflix Original are you?

(Story/Media)

Jan 29, 2019

Top 10 ways to spend your snow day

(Story/Media)

Jan 25, 2019
Jan 25, 2019

DGS junior dazzles on the ice rink

(Story)

Jan 10, 2019

New Year, same you– honey, resolutions fool no one

(Media)

Dec 14, 2018

DGS was only the beginning to Maudlyne Ihejirika's success

(Media)

Dec 13, 2018

Video News: Dec. 14, 2018

(Story)

Dec 10, 2018

Weekly Preview: Dec. 10-14

(Story/Media)

Nov 30, 2018

Freshman Friday: Gwen Royle

(Story/Media)

Nov 16, 2018

Civics requirement: First year and future implications

(Story/Media)

Nov 04, 2018

Mustangs stampede toward the state meet

(Story)

Oct 17, 2018

PSL season? More like MLB season

(Story)

Oct 14, 2018

Red Ribbon Week will focus heavily on vaping

(Story/Media)

Oct 09, 2018

A people's issue, not a partisan one: Why I believe Christine Blasey Ford

(Story)

Oct 04, 2018
Oct 04, 2018

TBT: Elaine Marinakos

(Story)

Sep 25, 2018

Top 10 things to watch on Netflix in the fall

(Story)

Sep 18, 2018

Conrad cultivates compassionate culture as new girls' volleyball head coach

(Story/Media)