Photo courtesy of Tatum Mitchell
Baylor bound: Equestrian Tatum Mitchell commits to division I university
The horse begins at a trot, approaching the first jump before clearing it with ease, as senior rider Tatum Mitchell is confidently in control — making it clear to the judges and spectators why she is one of four class of 2020 students in the country committed to Baylor University as a division I equestrian.
"I'm more excited than nervous about riding on Baylor's team. It is a lot of pressure, and going in as a freshman is intimidating but I'm really pumped for getting to know the girls on the team, the college experience in total, developing my riding skill and just having fun. Riding has always been really individual for me so bringing this sport into a team environment is going to be such a great experience," Mitchell said.
Mitchell is a third generation equestrian, and horseback riding has always been very important to her family.
"I was pretty much born into it," Mitchell said.
Despite this fact, riding has become something Mitchell loves, and her life revolves around it: she rides at least six days a week, usually spending at least an hour and half at the barn.
"Riding horses and competing is so exciting and definitely an adrenaline rush, I've been riding for 10 years and it never gets old," Mitchell said.
Her father Patrick Mitchell spoke on the impact the recruiting process had on their family.
"The recruiting process was difficult and really a family affair. My wife and I both made multiple trips to different schools so the coaches could see her ride. We made hours of video to send to schools. It was a long road financially and emotionally, but it was truly rewarding. I plan on being at the meets to watch her represent Baylor," Patrick Mitchell said.
Mitchell's mother Nina Mitchell noted some of the more difficult aspects of the recruiting process, many of which are different from the process that other athletes go through when committing for more mainstream sports.
"Most riders she was competing with are homeschooled and show consistently all year round across the country. Financially, we were not able to provide that and we did not want to rob her of the traditional high school experience. So [there were disadvantages:] not having a strong show record, not having the financial resources and finding opportunities to get her in front of coaches. We [combatted] this by attending collegiate riding camps for three summers," Nina Mitchell said.
There are multiple disciplines and subdisciplines within horseback riding. Major disciplines include Western, dressage, three-day eventing, and English. Mitchell's areas of expertise reside within the divisions of English and hunter-jumpers; the latter involving various jumps rather than riding on flat terrain.
"I love the discipline riding horses teaches you, it's turned me into a bit of a perfectionist. With riding horses, though, nobody is ever perfect. You always have something to learn and another thing to work on. Every horse you ride is so different and teaches you something new," Mitchell said.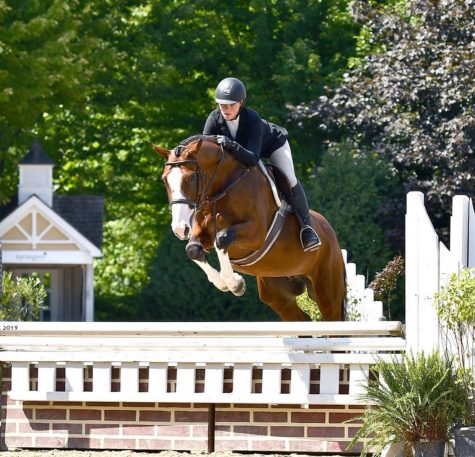 This past fall, Mitchell competed in the Illinois Hunter Jumper Association finals, in which she won third and rode a horse named Riot 18. Her ride can be viewed here.
Mitchell described her almost-daily practice schedule, which begins right after her school day ends:
"I ride for 45 minutes to an hour per horse [working with one or two each day], starting with flatwork [no jumping] and then we start warming up over smaller, simpler jumps before gradually moving up to bigger, more complicated courses. I also work on my own skills as well as training and honing my horse. Horses are athletes too, they have their strengths and weaknesses that the rider has to focus and work on," Mitchell said.
Nina Mitchell notes that her daughter is "happiest when she's on a horse," and commented on how she's watched Mitchell grow throughout the 10 years she's been riding.
"Riding came very natural to Tatum. It did not take her long at all to establish herself as a top rider in the area. What makes her such a good rider is her relationship with the horses and she doesn't usually take herself too seriously. When she does make a mistake, she often laughs it off, which is a wonderful attribute," Nina Mitchell said.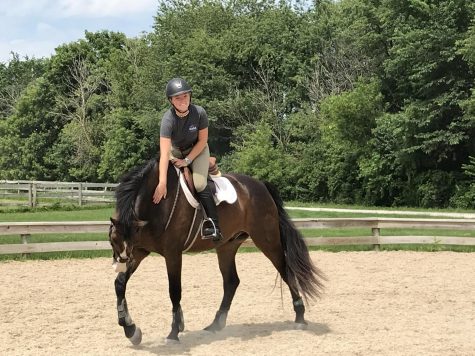 DGS senior Kate Stanley has been close friends with Mitchell since the pair met in fifth grade.
"Horseback riding means everything to Tatum. Not only does it consume a lot of her free time and her weekends, but she shares it with people who don't understand it, like me, which shows that she really cares about what she does and is willing to explain her love for it to others," Stanley said.
There were many things which contributed to Mitchell's ultimate decision to commit to Baylor. She wanted not only a strong athletic environment with good team comradery, but a reputable academic environment as well.
"The girls on the team are so sweet and bubbly, I felt such a connection with them, and the coaches are really great too, they give awesome instruction and are so friendly. Also, the actual academic part of Baylor is great, the campus is beautiful and the departments are well-developed and successful. I knew I wanted to go there as soon as I stepped foot on campus, it was my favorite school I visited," Mitchell said.
The Baylor equine team was looking to fill four spots, and Mitchell was amongst hundreds of equestrians hoping to be one of those four.
"I'm proud of so much that she does. When she got the scholarship offer from Baylor I was thrilled. She wanted to ride [division I] in school and she got it done. There are hundreds of girls going for four spots on the team, you have to be very talented to separate yourself from the field," Patrick Mitchell said.
Though horseback riding is not a DGS sponsored sport, Mitchell was able to participate in the annual NCAA division I signing day held in the Little Theatre on Nov. 14.
"[My] proudest moment was when she signed her NCAA letter at DGS. That is when it all came to life and was the end of a long adventure," Nina Mitchell said.