Brindza swings her way to state, into DGS history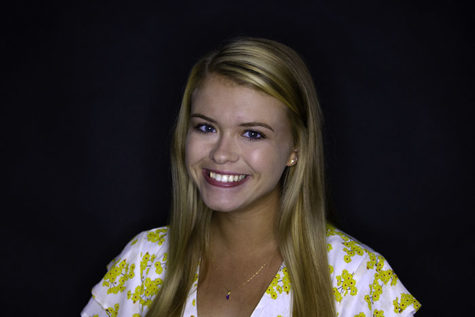 More stories from Sarah Barber
It was down to the wire — senior varsity golfer Alina Brindza had one opponent standing in the way of her state qualification, and the girl had just overshot the hole. Taking a deep breath, Brindza swung and tapped a simple four-foot putt to sink her ball and drive herself into DGS history. 
Brindza is the first female golfer in Mustang history to qualify at the state level. She will be moving on to the state tournament this weekend, which will take place on Thursday, Friday and Saturday, in Decatur, Ill.
"[In the playoff between Brindza and a girl from Hinsdale Central] we both hit our drives straight down the middle. My second shot landed on the fringe, and hers landed right on the green. I putted mine… and it landed on the green about four feet from the hole. She putted again, and it was way short, so she went again because she's further out, and her shot [ran] way past the hole. And then I just had to make a four-foot putt to go to state," Brindza said. 
"My [proudest] moment of Alina was her performance during [the] playoff at sectionals to make it down state. There were three girls playing for two spots. Last year she lost in a playoff to advance from regionals to sectionals. This time around, she was much more focused and determined and didn't let her nerves get the best of her," Head coach and physical education teacher Lindsay DeGiulio said. 
DeGiulio has been working with Brindza since her freshman year, when she was on the junior varsity team. DeGiulio has always viewed Brindza as a potential state competitor, "especially this year."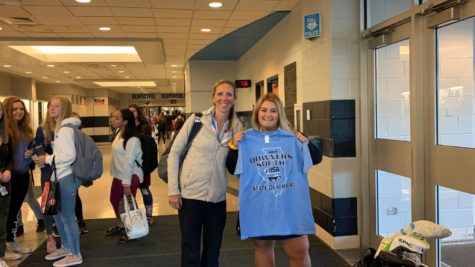 Junior Elena Kuczkowski has been playing with Brindza for the last three years. She is confident that her teammate will perform well in Decatur.
"I know Alina will do great at state. She is so determined, and she definitely deserves to be there. It will be a challenge, but I know she can place if she plays smart and is focused," Kuczkowski said.
She also described how she's learned the value of putting by watching and playing with Brindza.
"Her putting is key to keep her scores low. She always has a smooth, consistent stroke, and she is great at reading greens. That is one thing I am so glad she taught me. I struggled with putting last season, but she was always there to help. She knows the importance of putting and always displays that," Kuczkowski said.
Brindza puts in at least two hours of practice per day and has taken weekly lessons as well as participated in many offseason tournaments to help her advance to sectionals, which was her goal for the season. She expressed that she feels confident in her impending state performance.
"If I just play my game, I for sure can make it to the second day [of the tournament]. I just have to stay focused. I'm excited," Brindza said.
The state tournament is set up in a two-day format, starting Friday, with 24 individual golfers advancing to Saturday's competition. For luck Brindza plans to dress in her white uniform with her gray scrunchie and matching socks. 
View Comments (2)