Conference classic: Mustangs fight for 56-51 win over Hinsdale South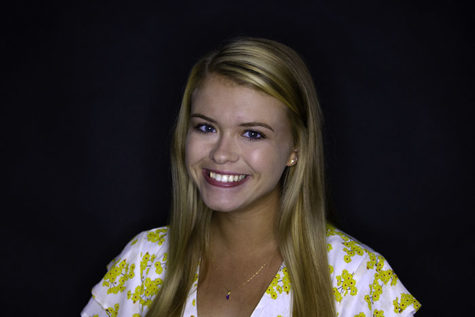 More stories from Sarah Barber
With less than a minute to go, junior Meghan Stapleton, who had sprained her thumb at the beginning of the game, received four free-throws– Stapleton took a deep breath and made every single basket, to secure the Mustangs' win over the Hornets, 56-51.
Stapleton's free-throws had been preceded by junior Lily Ross's attempts, which pulled DGS ahead by one point, 52-51.
"The last free throws were big. I had to focus and trust in my practice and couldn't do anything more," Stapleton said. Stapleton scored 16 points for the Mustangs throughout the game.
Hinsdale South had led DGS through almost all of the first half, with the Mustangs pulling ahead by two heading into the third quarter.
It was a dirty game — with DGS accumulating 19 fouls and Hinsdale 17 throughout the course of the game.
"I don't think the refs were very fair on our behalf. I didn't think they allowed us to play like we wanted to, but the girls were resilient, and whomever stepped up when our girls fouled out was huge, and we came out with a victory," head coach Lyndsie Long said.
Both Cydnei Mitchell and Jordin Grant fouled out of the game in the fourth quarter, as did the Hornets' Erin Adams.
"I think it was mostly a team game, but I held my own on defense, especially against number 10 [Adams]. She was probably the strongest, most aggressive girl I've ever played against, and I was able to get a steal when we needed one and get her to foul out as well by driving really hard to the basket," Ross said.
Player contact also was a big point in this conference game: both Stapleton and senior Erin Ganschow took numerous hard falls as a result of the Hornets' gameplay.
"I normally play with a lot of contact, so it wasn't that different for me. It made me kind of angry today that they thought they could push us around, so the contact ended up motivating me to work even harder," Ganschow said.
The game also featured senior night, celebrating the Lady Mustangs in the class of 2020: Ganschow, Bri Andresen, Erin Glennon, Aaliyah Hatter and manager Jackie Sumida. Senior night provided the girls with extra motivation to come out with a victory.
"Senior night is always a special night, because obviously everyone is geared up to play, and they know it's one of the seniors' last home games, and with the [pep] band here, it excites everyone more. It's a special event. [The score] was a little closer than I wanted it to be, but at the same time our girls fought hard and we got our win," Long said.
The Lady Mustangs' next game will be a conference match on Tuesday, Feb. 11, against a team from the West Suburban Gold Conference. It will be held at 7600 Roosevelt Rd. in Forest Park, Ill.
Leave a Comment