Medina makes his mark: Sophomore becomes first male flyer in DGS history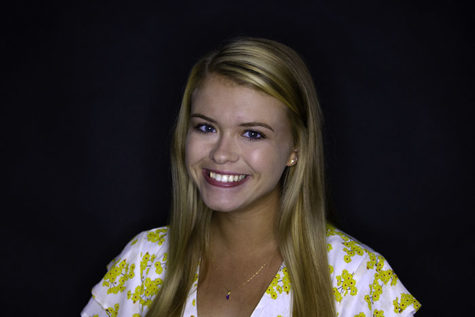 More stories from Sarah Barber
Bright stadium lights glare down as DGS varsity cheer pushes their flyers into the air, and the crowd's eyes widen– high in extensions among the petite girls flies a boy.
"I actually just started this year when I joined [the DGS team], so this is my first year cheering," sophomore Marcus Medina said. 
Medina, the first boy flyer in Mustang history, tried out for DGS cheer in the spring at the suggestion of a friend, but had never cheered prior to tryouts and has no background in gymnastics or tumbling.
He has been cheering with the Mustangs since he made the team in June, originally as a base. However, after testing out flying with some of his teammates at a few open gyms, they brought the idea to their coach.
"Marcus wanted to fly and the team [wanted him to] too. They had been trying some stunts at open gyms on the weekends. I thought why not give him a shot. It was definitely a new choice for us, but the second I saw Marcus in the air, I knew I made the right choice," head coach Shannon Lahey said. Lahey has been the head coach of the DGS varsity team for seven years, but has been on the coaching staff for 10. 
Switching from a base to a flyer is not a simple task. This was expressed by junior and ex varsity cheerleader Nick Schmidt-Bailey, who left the DGS cheer program this year to pursue the sport at the all-star level.
"Being a flyer is really scary…  you have to be completely in trust of the people under you, it's constantly a trust fall, I've seen flyers fall on the ground, hit their heads and get concussions before. [They] break their arms, break their legs, it's horrifying. Moving from a base to a flyer especially…  I can't even imagine how difficult that would be, because you're so used to being in control," Schmidt-Bailey said. 
Junior Josie Gadzala has been a flyer at the varsity level for three years. She explained some of the technicalities that flyers require to have success on a varsity mat.
"You're expected to know the basics… so that's doing extensions,  when the bases' arms are above their heads… You [need] to have balance and you have to be able to pull up your body, because you could be the biggest flyer on the team or you could be the tiniest one, but the tinier one could feel heavier because they're not pulling up their weight as much as the other flyers," Gadzala said. 
Medina feels that he's under a lot more stress due to the team's committed practice schedule, but he's also experienced many benefits from joining the sport.
"I definitely work harder for my goals now, and I know what it's like to try and succeed," Medina said. 
Medina and the rest of the Mustangs' varsity cheerleaders can be seen throughout the football season in front of the student section. The next DGS home game will be on Oct. 11 against Morton. 
View Comments(1)