Leinart reigns supreme: Legally blind swimmer wins state, breaks records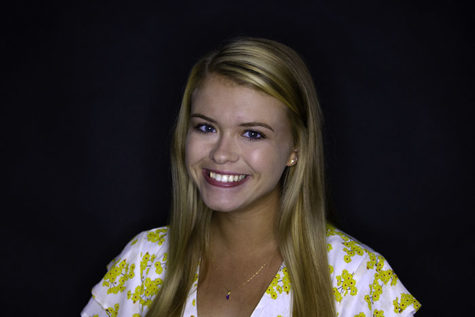 More stories from Sarah Barber
A tennis ball tapped the head of junior Matthew Leinart as he flew through the pool, executing a flip turn before speeding toward the end of his lane — he was about to shatter the IHSA and pool records in the state final of the 100-yard breaststroke in Athletes with Disabilities class B.
As a legally blind athlete, it's hard for Leinart to know when to turn. His coaches tap his head with a tennis ball on the end of a pole as an indicator that he's close to reaching the wall.
"In the pool I don't use any of my sight. For me being blind doesn't make me any more different than the person swimming in the lane next to me. I'm just like any other guy on the team, the only difference being an AWD athlete is that I cannot only compete with other "able-bodied" swimmers, but I also get the chance to swim with swimmers who are just like me. Other swimmers who are blind, who have overcome challenges, and who understand me," Leinart said.
At the state meet, Leinart competed in the 50-meter freestyle, 100-meter freestyle, 200-meter freestyle and 100-meter breaststroke, all in the AWD class B. He placed second in the 50- and 100-freestyle, and won both the 200-freestyle and 100-breaststroke. In the 100-breaststroke, he swam 1.10:60, breaking the state record of 1.13:51, as well as the pool record of 1.15:91.
"At first I didn't know. I couldn't actually see the time boards and screens, so I didn't know how I did until after the other swimmers finished and I got out. I sat there in my lane waiting for the last swimmer to finish, and it was very suspenseful, to put it mildly," Leinart said.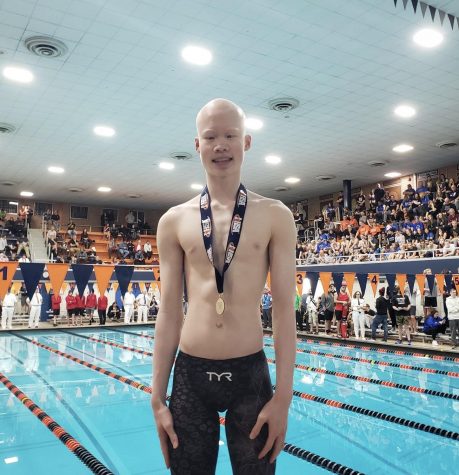 "The way he swam at state, he even exceeded my own expectations, not just in the events that he won but in the events he placed second in as well. He was seeded quite a bit behind the guy in first, and when he ended up losing, it was by tenths of seconds," head boys swim coach Bryan Szweda said.
After competing a coach of the USA Paralympic national team approached Leinart. He may begin swimming and doing other training with them.
Leinart felt that the atmosphere of the state meet contributed to his speed but that he could only concentrate on his performance.
"It was very intense, especially in the last couple races. I went out really fast [during the 100-breast], and the whole race felt really good. The whole time I was just hoping I was swimming fast enough," Leinart said.
This was only Leinart's second year competing on a high school swim team, having taken his sophomore season off.
"He came in a little more out of shape than he probably should've, but he worked really hard, and by the end of the year, [he was at his] lifetime best by a ton in all of the events that he swam. Technique-wise and endurance-wise, he's improving greatly," Szweda said.
Leinart's sister Katie is a senior at DGS and a member of the girls swim and dive team. She spoke on her brother's success.
"I was surprised and super happy when I found out Matthew had broken the state record. I knew his initial time was three seconds off the record, so I figured he'd get it next year, but when he hit the wall and dropped six seconds and completely shattered the record by three seconds I was amazed," Katie Leinart said.
When Leinart returns as a senior, he plans to be even more dedicated to the swim program. He has quit the DGS marching band and will rejoin club swimming in the summer, which he hasn't done since eighth grade.
"I'm always asked why I didn't swim last year. People saying things like I was just done after winning everything freshman year, or I didn't enjoy it anymore. Truth is, one of my biggest regrets from last year is not swimming," Leinart said. "I've been setting some pretty big goals for myself after all of this."
For full access to the IHSA boys swimming and diving state results, visit this link.
Leave a Comment