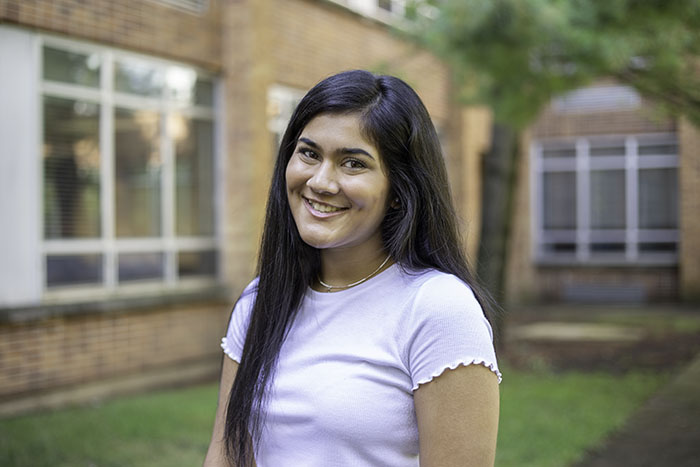 Srushti Desai is a senior at DGS and one of the Co-Editor-in-Chiefs for Blueprint. She enjoys playing sports such as badminton and soccer. Desai has been on the DGS badminton team since her freshman year, and wants to play this year in hopes of having a full circle high-school experience.
Desai enjoys spending her freetime helping others by doing community service, and is currently a volunteer at the Advocate Good Samaritan Hospital. She also helps people at school by being involved in many clubs and activities: Peer Leaders, Mad Dash, student council and math tutoring.
She plans on getting a biomedical or computer engineering degree as she moves on from high school. Desai hopes to achieve this goal keeping these colleges in mind: Bradley University, Marquette University and Purdue University.
Srushti Desai, Print Co-Editor-in-Chief
May 10, 2019

Wrapping up the hardware from senior awards night

(Story/Media)

May 10, 2019

What music festival should you attend this summer?

(Story)

May 03, 2019

Which senior Blueprint staff member are you?

(Story)

Apr 04, 2019

Simple packaging, high-quality makeup

(Story/Media)

Mar 22, 2019

Young Living is essential

(Story/Media)

Mar 22, 2019
Mar 08, 2019

Morphe Cosmetics: Simple, affordable and trendy

(Story/Media)

Mar 04, 2019

Birthday baskets: beloved tradition unique to DGS

(Story)

Mar 01, 2019

What type of bagel are you?

(Story/Media)

Feb 22, 2019

Students and staff dress up in support of DGS spirit week

(Story/Media)

Jan 25, 2019
Jan 25, 2019

Dueling perspectives: tracking in course curricula

(Media)

Jan 18, 2019

What trend will you follow in 2019?

(Story/Media)

Dec 21, 2018

A new kind of art—makeup

(Story/Media)

Dec 13, 2018

Video News: Dec. 14, 2018

(Story)

Dec 12, 2018

In a studying frenzy? Read some helping horoscopes

(Story/Media)

Dec 07, 2018

What ugly holiday sweater should you wear this year?

(Story/Media)

Nov 16, 2018

Shedding light onto this years philanthropy project

(Story)

Nov 16, 2018

Fundamentals of fighting

(Story/Media)

Nov 16, 2018
Nov 08, 2018

NxN Beauty may damage your bank account, but it won't damage your skin

(Story/Media)

Nov 02, 2018

Taking a right turn into Driver's Education

(Story)

Oct 31, 2018

Horoscopes: how to have a 'spook'-tacular Halloween

(Story/Media)

Oct 22, 2018

Caffeine may wake you up, but Mud and Char will shut you down

(Story)

Oct 12, 2018

What DGS reading book are you?

(Story/Media)

Oct 04, 2018
Sep 28, 2018

Freshman Friday: Declan Mulcahey

(Story/Media)

Sep 11, 2018

Weekly Preview: Sept. 10 – Sept.14

(Story)

Aug 29, 2018

Scoping out the second week of school

(Story/Media)

May 22, 2018

Top 10 Tuesday: Top 10 things to do before you graduate

(Media)

May 18, 2018

Same old, same old: makeup tutorials fall flat

(Story)

May 18, 2018
May 03, 2018

Throwback Thursday: Mary Mulcahey

(Story)

Apr 04, 2018
Mar 23, 2018

Throwback Thursday

(Story)

Mar 23, 2018
Mar 21, 2018
Mar 13, 2018

Top 10 (granola bars) Tuesday

(Story)

Mar 07, 2018

Weekly Horoscopes

(Story)

Feb 14, 2018

Which wacky holiday are you?

(Story)

Jan 29, 2018
Jan 16, 2018

More than one way to apply foundation?

(Story)

Jan 10, 2018
Dec 18, 2017

The facts behind standardized testing

(Story)

Dec 06, 2017

Blackbear's new album is as sweet as honey

(Media)

Dec 01, 2017
Nov 29, 2017

They love me, they love me not? Find your daily horoscope here

(Story)

Nov 21, 2017

November 21, 2017

(Story)

Oct 26, 2017
Oct 05, 2017

Drugstore makeup dupes: Is boujee always best?

(Story)

Sep 21, 2017

Fenty Beauty: new makeup line by Rihanna

(Story)

Sep 14, 2017

Taylor Swift changes her 'Reputation' with two new singles

(Story)

Sep 12, 2017

Top 10 Tuesday: Back to school essentials

(Story)