Birthday baskets: beloved tradition unique to DGS
March 4, 2019
Helium-filled balloons fill the hallway, floating above students' heads as that special someone is dragged down by the weight of their gift-filled laundry basket. People stare at these obnoxious baskets, but as a long-running tradition at DGS, they are all the more welcomed.
Sweet 16's are special but especially when you receive a birthday basket like sophomore Ginny Curtis. These baskets are commonly known as birthday baskets: a laundry basket filled with candy, toys and any other goodies of that sort. Physics teacher Drew Sobczak sees birthday baskets with the aforementioned contents many times a week.
"A birthday basket is a basket that is given to a girl, seems like it's only girls, and it contains sweets and candies galore [and] teddy bears — extra soft — and toys in general. [Usually,] a girl walks around with it all day and has people praise her for her birthday," Sobczak said.
Birthday baskets may seem like a recent trend, similar to avocado toast; however, according to Student Director Vince Walsh-Rock, birthday baskets have been handed out for decades.
"I seem to remember [birthday] baskets occurring when I first started teaching here in 1994. However, I do not remember them in use when I went to DGS as a student in the early 80's," Walsh-Rock said.
While this tradition seems to be popular at DGS, other schools such as DGN don't have any traditions similar to birthday baskets.
¨Here at North, it is not common at all to receive a birthday basket. [Throughout] my four years in high school, I have never seen at least one of the birthday baskets,¨ DGN senior Mary Abd said.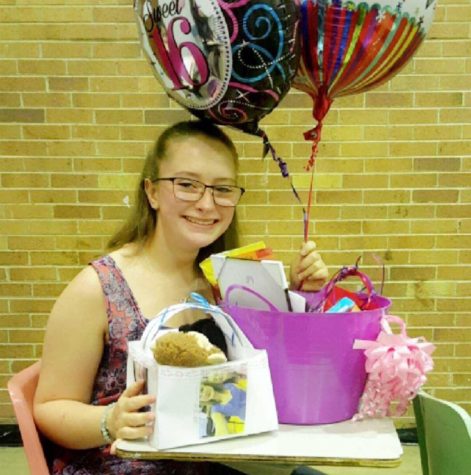 Much like DGN, Hinsdale Central lacks similar birthday festivities.
"I have never seen a birthday basket at Hinsdale Central and haven't heard of them until I heard friends from other schools talk about them," freshman and Hinsdale Central student Hannah Turek said.
Because of the lack of tradition, students expressed their desire to have a similar experience to birthday baskets. DGN senior and Abd's twin sister Mariam Abd hopes to soon see this tradition be carried on at DGN.
¨I think birthday baskets are such a good idea and can make someone's birthday [even better]. I did not even know what birthday baskets were, and I really hope that DGN adopts this tradition. I think it would be a great addition and something fun to do on a friend's birthday, " Mariam Abd said.
Students at DGS receive birthday baskets quite often. They are usually meant to make a person feel special on their birthday. Senior Alexa Flores shares her experience with receiving birthday baskets.
"I received a [birthday] basket sophomore year, and I felt happy because it was a nice gift from my friends. Having to carry it around was overwhelming, although it was a nice gesture," Flores said.
While birthday baskets may be a well-known tradition, the meaning behind them can often get lost.
"I feel like it's become a thing of, 'I feel responsible, and I feel like I have to get a basket for somebody because, if I don't then that girl will feel bad,'" Sobczak said.
These plain laundry baskets are more than just baskets filled with candy. Often times, the contents can have a deeper meaning to the person receiving the basket, or they can be a joke that is shared between the friends.  According to French teacher Mary McDonnell, the meaning can change based on the person and the situation.
"[They symbolize] friendship, and signifying that you are special. …  Sometimes, I feel bad for students whose birthday it is and they don't get a basket because it a such a well-known tradition here at DGS to get a basket," McDonnell said.