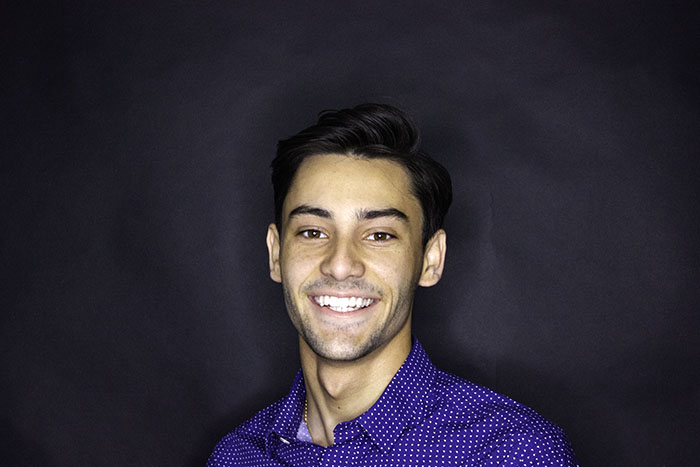 Alex Miranda is a senior at DGS and an Editor-in-Chief for the Blueprint. He began his journalism endeavors as one of only two sophomores on the 2018-19 staff, competing at IHSA sectionals and state for editorial writing and bringing home a first place prize for the former. As a junior, he was the Video News Director and achieved multiple accolades, most notably becoming a member of the 2020 IJEA All State Journalism team.
In his senior year, Miranda is excited to further pursue his passion for reporting and has a primary interest in features writing and advocacy journalism. He plans to continue his work as a head Changemakers representative and Snowball director, taking initiative to ensure the District 99 community is welcoming and inclusive toward all. Outside of school, he enjoys interning at ABC & Me daycare center in downtown Chicago, teaching STEM and safety activities to young children.
In his free time, Miranda is an avid roller coaster enthusiast, thrill-seeker and collaborative problem solver. Doing adventurous things is a major part of his life and he finds there is a lot of fun to be had in overcoming obstacles and facing his fears. Ultimately, Miranda knows that the most important part of life is surrounding oneself with supportive good friends and family, and he is blessed to have both.
Alex Miranda, Editor-in-Chief
Sep 09, 2020

DGS students, administration respond to "Zoom bombing" incidents

(Story/Media)

Jun 04, 2020

Black voices for Black Lives Matter: DGS students speak out on racial inequality

(Story)

Apr 23, 2020

DGS building repurposed to help community during COVID-19; MFP work continues while students are away

(Story)

Mar 25, 2020

Community under quarantine: Downers Grove adapts in wake of COVID-19

(Story/Media)

Mar 24, 2020

District 99 confirms first COVID-19 case within school community

(Story/Media)

Mar 18, 2020

Focused on the future: DGS students respond to COVID-19 complications

(Story/Media)

Mar 12, 2020

New Tame Impala album defines sound of 2020

(Story/Media)

Mar 09, 2020

National Speech and Debate Association Tournament held at DGS

(Media)

Mar 04, 2020

Cancel culture: The new wave of cyber bullying

(Media)

Mar 04, 2020

Let's cancel 'cancel culture'

(Story)

Feb 18, 2020

Top 10 activities to look forward to this semester

(Story/Media)

Feb 05, 2020

Student-created 'Project Dandelion' database raises awareness of college sexual assault

(Story)

Jan 23, 2020

Starbucks Roastery leaves Chicagoans still thirsty

(Story/Media)

Jan 16, 2020

Living the nightmare: Sleep paralysis affects DGS students

(Story/Media)

Jan 09, 2020

What New Year's Resolution Should You Make?

(Story)

Jan 07, 2020

Allergic to 'Cats': Screen adaptation of acclaimed musical disappoints

(Story/Media)

Dec 17, 2019

DGS journalism program information

(Story)

Dec 03, 2019

Agne Giedraityte: Classically trained, musically accomplished

(Story)

Nov 22, 2019

DGS still buzzed by Juul epidemic

(Story)

Nov 12, 2019

Top ten Tuesday: Ways to predict a snow day

(Story/Media)

Nov 05, 2019

'Dr. Jekyll and Mr. Hyde' thrills audiences Nov. 1 – 2

(Story/Media)

Oct 21, 2019

Slowikowski speaks at Red Ribbon Week assembly

(Media)

Oct 10, 2019

Staff editorial: ALICE intruder drill misses mark, leaves students unprepared

(Story)

Oct 04, 2019

Staff Editorial: Construction Criticisms

(Story)

Sep 29, 2019

Students attend homecoming assembly in superhero style

(Story/Media)

Sep 17, 2019

Fall in love with 'Lover': Taylor Swift's seventh album

(Story/Media)

Sep 10, 2019

Want to join newspaper club?

(Story)

Sep 05, 2019

What homecoming anthem will describe your night out?

(Story/Media)

May 08, 2019

How to succeed in business without being sexist

(Story/Media)

Apr 22, 2019

Perseverance is power: How Virginia won the NCAA men's basketball final

(Story/Media)

Apr 03, 2019

A spirited fight: Why attendance should be required at DGS assemblies

(Story)

Mar 22, 2019
Mar 15, 2019

Staff editorial: PDA? No way.

(Story/Media)

Mar 08, 2019

Staff editorial: More formal, more effective

(Story/Media)

Mar 05, 2019

Staff editorial: Flexible learning days–a welcome alternative to snow day cancellations

(Story/Media)

Feb 25, 2019

Hey, what's up with this YouTube trend?

(Media)

Feb 12, 2019

Top 10 reasons why you should attend the winter dance

(Story/Media)

Feb 04, 2019

Weekly Preview: Feb. 4 – Feb. 8

(Story/Media)

Jan 29, 2019
Jan 25, 2019
Jan 25, 2019

Marty, I think it's time we had the talk

(Story)

Jan 22, 2019

Top 10 ways to stay up doing your homework

(Story/Media)

Dec 14, 2018

The sky is falling: DGS notices missing and damaged ceiling tiles

(Story)

Dec 07, 2018

End the trend: the dangerous effects of glamorizing student-teacher relationships in teen TV

(Story/Media)

Nov 20, 2018

Blueprint Girl–Thanksgiving Special

(Story)

Oct 29, 2018

Fun, not offensive: be cautious of what you wear this Halloween

(Story)

Oct 23, 2018

Old vs. new: why classic horror is the best horror

(Story/Media)

Oct 19, 2018

Freshman Friday: Gillian Krughoff

(Story/Media)

Oct 17, 2018

First thoughts on 'First Man Movie'

(Story/Media)

Oct 04, 2018
Sep 24, 2018

Weekly Preview: Sept. 24 – Sept. 28

(Story/Media)

Sep 20, 2018

Throwback Thursday: Jordan Copeland

(Story)

Sep 14, 2018

DGS paints a picture that lacks color

(Media)

Oct 26, 2017

Q & A with Cyndi Montero

(Story)