Hey, what's up with this YouTube trend?
February 25, 2019
Lights, camera, "What's up, guys! Welcome to my channel." A familiar face probably popped into many people's minds as they read this arguably iconic phrase. Amid the rise of social media, YouTubers and internet influencers are increasing in popularity, and many students have jumped on the bandwagon.
YouTube has been a source of connection and entertainment for many, and careers involving social media are relatively new and popular among younger generations. For example, YouTuber Emma Chamberlain is only 17 years old and makes millions a year.
Students are not just watching YouTubers and following influencers; they are also becoming YouTubers themselves. Junior Marina Mancione has been on YouTube since November of 2018 and has been receiving consistent views on her channel.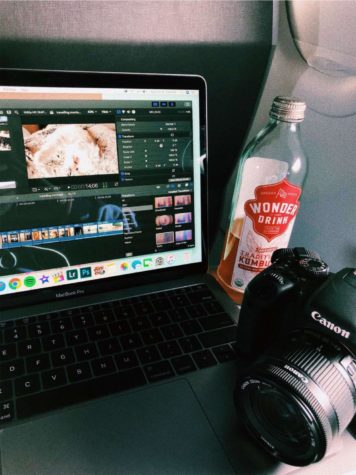 "I wanted to start YouTube because I was really just trying to find something to keep me occupied and engaged with my social media. I was pretty bored of my everyday routine and wanted to try something new," Mancione said.
Many students have been influenced and inspired by popular YouTubers. Junior Nicole Schlitz believes that with the work professional YouTubers put in, they have also motivated other channels.
"The YouTubers I watch put a whole new perspective on life … and made me realize how I can make my life happier, so I hope I can do the same for other people. If I do continue my channel, even though I'm not doing it for the subscribers and views, … creating makes me happy and I'll get something good out of it even if it's not the views and subscribers," Schlitz said.
DGS senior Tim Lam has been on YouTube since he was nine years old and has been running his current channel since he was 15.
"[I wanted] to connect with others and share my experiences and moments in my life for the world to see. It's a great feeling when you see people enjoying your content and commenting on it, and also sharing their own experiences," Lam said.
Lam is planning on attending the University of Pennsylvania on track to be a nurse anesthetist. He hopes for YouTube to be a part of his future.
"At the moment I really am hoping I can [continue YouTube]. It is a lot of fun despite the work it takes to film and edit videos. However, my time schedule right now is very hectic. … I hope that sooner or later I will come across free time to make content," Lam said.
New to the YouTube scene, junior Samantha Hanek started her channel about two weeks ago. Hanek is planning on becoming a veterinarian and has no current plans to have YouTube be a part of her career path; however, she makes videos now for the experience.
"I can look back at my videos and smile and laugh as I remember the memories. It helps me to not just lay around in bed all day," Hanek said.
In addition there are differing opinions on the rise in technology and the role media has on teenagers' lives. Nevertheless, many student YouTubers' parents are supportive of their involvement with the video-sharing network.
"All my parents and friends are supportive of me. … My parents understand how much fun I have, so they support me spending time on it," Hanek said.
Peer engagement and support has also played a large role in Mancione's videos. The videos she has posted thus far have received over 1,000 views.
"I've gotten such a good response to the videos I have posted so far, too. My friends enjoy watching my videos, and my mom likes seeing me have fun making them," Mancione said.
Social media has become a large part of today's society, and many see social media as a part of their future. With an increase in technology use and growing numbers of people following influencers, career paths that include media are becoming more realistic. Band director Dajuan Brooks supports being a YouTuber as a career option.
"I think that it's important for people to find their own passions and what they love in their lives. … There are so many [YouTubers] that bring so much joy and happiness to people," Brooks said.
DGS alumni Julie Dudasik considered pursuing a career with YouTube in the past. Dudasik is a junior at Lewis University, majoring in Elementary Education. She is currently focusing on her degree instead of YouTube, and while she believes YouTube will always be a part of her life, it will not be her career path.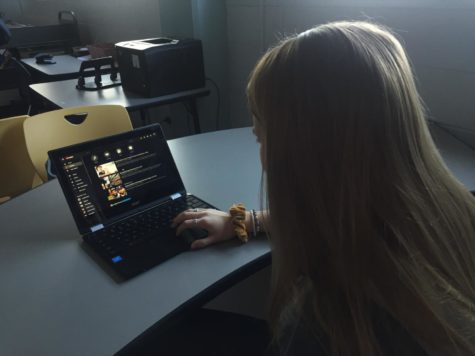 "Being a YouTuber, in my opinion, is similar to being an entrepreneur: you create your own brand and market yourself to other companies. … When you're a YouTuber, you do not only make ad revenue but also money from multiple brand sponsorships. Although it's not your typical career, it is definitely possible to become financially stable through YouTube," Dudasik said.
Along with YouTube generating potential career paths, English teacher Zachary Kuhn believes that, overall, YouTube has created a platform for many teenagers to connect with others. Many YouTubers have created a community for their subscribers.
"I think generally it's been better for kids who have struggled finding a place to belong than it has been for kids who have traditionally felt welcome, so a kid who had trouble finding friends with similar interests in 1999 has a much easier time in 2019," Kuhn said.