Fall in love with 'Lover': Taylor Swift's seventh album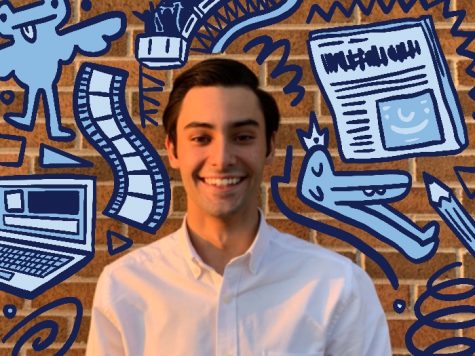 More stories from Alex Miranda
America's country-sweetheart-turned-pop-phenomenon Taylor Swift released her highly anticipated seventh studio album, "Lover," on Aug. 23, 2019, and its release marks a monumental achievement for Swift as a songwriter. In November of 2018, Swift split from her career-long partnership with the infamous Big Machine Label Group, choosing to sign with Republic Records ahead of "Lover's" release in an effort to own the rights to her music. From this perspective, "Lover" is one of Swift's greatest accomplishments, for the album's release aligns with her firm belief that songwriters should be able to own the work they create.
But does the album hold up against Swift's impressive music catalog?
At first, I didn't think it would.
When the lead single, "ME!", dropped this spring, I was entirely let down. The track sounded like a Kidz Bop parody, especially when Swift belts the lyrics, "Hey kids, spelling is fun!" (a line that is absent on the album version of the song–Swift corrected her error like a grave spelling mistake). Considering the track features Panic! at the Disco's Brandon Urie, I felt cheated out of the potential for a great song by two otherwise elite hitmakers. 
However, as more songs were released ahead of the album, my anticipation began to grow once more. As per "Reputation" and "1989," Swift has a tendency to release the worst music off her album first (looking at you, "Look What You Made Me Do" and "Shake It Off"). On "Lover," "ME!" is the only song worth skipping.
That is an impressive feat on its own, as "Lover" spans 18 tracks and is over an hour in length. 
The album opens with "I Forgot That You Existed." A complete 180 from the chaotic, pulse-pounding opening track "Ready For It" off her last album "Reputation," this upbeat, playful song depicts a failing love that once broke Swift's heart, but now she reflects on the relationship with indifference. An interesting choice for the opening track of an album centered around true love, this song appropriately sets the mood of the album sonically.
"Cruel Summer," the second track off "Lover," is definitely a highlight. It describes Swift knowing that her summer fling is destined to fade in the fall, but the infatuation she has for her partner forces her to see the relationship out to its inevitable end. In the last lines of the bridge, Swift vocalizes with enraged passion: 
"I screamed for whatever it's worth / 'I love you, ain't that the worst thing you ever heard?' / He looks up grinning like the devil."
This song is the ideal choice for the next single, and I predict it will receive heavy radio play in the coming months. 
Even more intriguing is the track "Paper Rings." The sound is reminiscent of an 80's jukebox tune, and Swift sings of how her interest in a potential partner developed into her current three-year relationship. 
"The moon is high like your friends were the night that we first met / Went home and tried to stalk you on the internet / Now I've read all of the books beside your bed."
This album is an especially important one for Swift, as it is the first time her political voice has shone through in her lyrics. As the fourth track of the album, "The Man" verbalizes Swift's disapproval with the media's interpretation of her social, work and romantic lives, stating that she wouldn't be faced with such harsh setbacks and criticisms if she were a man. In "You Need To Calm Down," the second single off the album, Swift sings in support of women empowerment and the LGBTQ+ community. 
While "Lover" is a strong body of work, no album is perfect. 
"Lover" is noticeably longer than Swift's other six albums, and it feels that way too. A few songs could have been scrapped or turned into interludes. I wouldn't shed any tears if "ME!" was removed; "The Archer" and "It's Nice to Have a Friend" would benefit from the interlude treatment.
All of these critiques fade into the background when the last track plays.
Possibly the best moment on the album occurs in its final seconds. As the concluding track "Daylight" comes to an end, Swift speaks the following in her outro:
"I want to be defined by the things that I love / Not the things that I hate, not the things that I'm afraid of, not the things that haunt me in the middle of the night / I just think that you are what you love."
If that's the case, then you might as well start calling me "Lover."
Leave a Comment