An ode to oxford commas: Thank you, Blueprint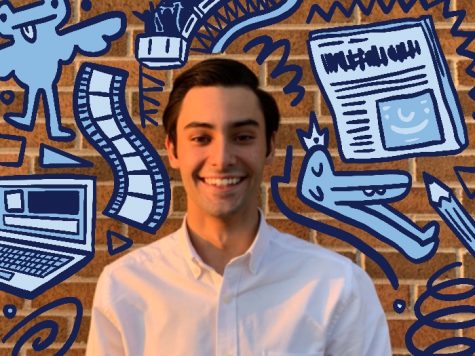 More stories from Alex Miranda
The first article I ever copy edited was a news piece in late Sept. 2018. Clicking open the Cycle 1 folder and reading the lead, I recall feeling a tense pressure to prove myself worthy of holding my own on the Blueprint staff as one of only two sophomores on the team at the time (thank you for seeing my potential from early on, Mrs. Long). I turned on suggested edits and got to work, the document ablaze in green corrections and comments referencing AP style guidelines.
Half an hour later I was confident with the edits I'd made and called a senior Editor-In-Chief into the backroom to check over the updated draft. She sat across from me against the side wall, eyes scanning the article projected on her chromebook screen. I crossed my fingers as I watched her cursor move through the paragraphs, my heart dropping slightly as it paused on each line.
She soon approached the closing statement of the article and had yet to call out a mistake. I sat back in the tattered blue office chair, relaxing my shoulders in satisfaction. I must've forgotten to knock on the wooden desk in front of me for good luck, though, because the next words that came out of the Editor-In-Chief's mouth were especially humbling.
"Alex, we just went over this in grammar bootcamp last week. Get rid of the oxford comma here immediately. You know better than this."
I can assure you I never made that mistake again.
For those unaware, the infamous oxford comma is defined as the last comma listed in a series of three or more items. For example—this pains my heart to type—Alex Miranda was a member of Blueprint sophomore, junior, and senior year. The oxford comma in this statement is found attached to the word junior.
The prime issue journalists face with the oxford comma is the claim that it is a waste of space. In a news environment where concision is key, these commas run the risk of redundancy and their absence saves valuable space in the print pages during formatting.
Three years and over 70 articles later, I am now a senior Editor-In-Chief of the Blueprint. I've spent the last two semesters leading our staff alongside the talented, motivated and intelligent Jackie Barba and Luc Alvarez. I am proud of the work we've accomplished as a team and know that we made a positive impact on this program.
That being said, what was recited to me about the oxford comma in the fall of my sophomore year still distresses me to this day. The notion that the inclusion of the comma is regarded as "wasted space" is concerning, as I feel this semester I let some responsibilities I'd normally be on top of go to waste.
I've always been the type of person who strives for perfection and optimism. The past four months, however, I've dealt with struggles on a personal and emotional level unlike anything I've had to confront prior. My academic performance began to falter as a result, and in Blueprint specifically I accumulated late and missing work.
So, did I fail as an Editor-In-Chief? In some ways, honestly, I think I did. And that's okay.
To me, Blueprint is more than a letter grade at the end of the semester. It's bigger than a collection of Best-of-Sno accolades and first place certificates. It sure as hell isn't the prized leadership position that was my sole ticket into university acceptances, either (related: read my common app college essay on the Blueprint).
Blueprint is home.
What I've grown to realize through this program is that home will not always be comfortable. Sometimes you will fall behind and question yourself and your capabilities. Sometimes you will need to cut your losses and treat your failure as a learning lesson with the mentality that you know how to avoid the same mistake in the future.
And, yes, sometimes you will be called out, too (Thanks, Teagan and Ariel. Love you).
Scholars often argue the oxford comma is needed for so-called clarification purposes and traditionalistic writing standards. What is often overlooked in this argument is the list of items themselves that bring the sentence clause together.
Blueprint has taught me it's not just about the "commas" in the moments you feel have gone to waste, but rather the comprehensive experience. Looking back on the last six semesters in Blueprint, I could not be more proud of the person I've become through the articles I've penned and the people I've met. This program has taught me that writing is the most powerful communicative tool and that your voice matters and will be heard by those who need to hear it most.
Thank you, Blueprint, for making me who I am today. I will never forget you—nor my displeasure for oxford commas.
Update 10/7/21 from The Daily Northwestern Opinions Desk: Didn't forget you. Thank you Mrs. Long, Luc Alvarez, Jackie Barba and everyone on staff who believed in me. Also, lock me out of this thing already. 😉
View Comments (1)