Black voices for Black Lives Matter: DGS students speak out on racial inequality
The Black Lives Matter movement told from the perspective of Black students in the DGS community.
June 4, 2020
"When I was in the fifth grade, I cried to my mom because I hated my skin. She took a mirror and made me look at myself and told me why I was beautiful… growing up in a world where you are constantly oppressed makes you view yourself differently, as if you don't matter," said incoming senior Aamari Taylor.
After a Black man named George Floyd was murdered at the hands of four Minneapolis police officers, video footage of the event began to spread on social media. The video gave many Americans a glimpse into just one of the everyday realities of being Black in the United States. For Taylor, the struggle of learning to love the color of her skin was one of the many harsh realities of growing up Black.
"When I was little I hated being Black because of how I was treated. People constantly told me I was too Black to be beautiful or because I was Black I wasn't as smart and it made me feel like I didn't matter to the world," Taylor said.
Today, these realities have guided Taylor to become an activist. Her initiative to speak out for marginalized groups derives from personal experience.
"
I will fight for freedom for everyone and being Black shows me firsthand why I have to."
— Aamari Taylor
"I feel obligated to stand with those who are fighting for their rights because everyone deserves to be who they are freely. Due to my ancestors being forced to live in a world where living freely wasn't accessible, [I understand] the importance of freedom. I will fight for freedom for everyone and being Black shows me firsthand why I have to," Taylor said.
Taylor finds her voice in composing and performing poetry, often centered around the Black community. Uploaded to Instagram, Taylor's video presentation of her poem "Modern Strange Fruit" calls for unity amidst racial discrimination and police brutality. Shared by many of her classmates for its timeliness and potency, the poem was originally written in December of 2018.
"I hope that the people who watched and listened to my poem were moved by it and feel empowered. For my non-Black supporters, keep supporting and know that even though the movement is called Black Lives Matter, your support is equally important to push the movement. For my Black viewers, know that we are all in this together," Taylor said.
Aamari Taylor
In the aftermath of Floyd's death, millions of Americans began to use their online platforms to communicate their frustrations with police brutality and racism. Through these various platforms, users shared educational tools, organized protests and expressed support for the Black Lives Matter movement.
"All the video coverage from social media shows the truth, which helps the movement. Also, social media helps show the ignorance of the people I thought were my 'friends' but it also allows me to have civil conversation on the matter and make some of my non-Black friends see what it is like to be Black," Taylor said.
Similar to Taylor, incoming senior Sierra Battee has found the social media landscape to be "extremely effective" in spreading awareness concerning the Black Lives Matter cause and ensuing protests. As a student leader at DGS, she understands the importance of using her platform to inspire activism.
"Social media is extremely crucial because of how technology is used; everyone gets to see what is going on whether it be through their phones, laptops or televisions. When I first heard of the horrible death of George Floyd, I was extremely angry and hurt and couldn't find the words to express how I felt. When I looked on Instagram and saw multiple people with speeches and the long lists of people who have been victims of police brutality, all I could do was share it because just seeing it would be enough for someone to understand the importance of the Black Lives Matter movement," Battee said.
Battee understands that while many have been active on social media, it is important to reflect on the true intentions behind each post. She reiterates the difference between performative activism and authentic empathy.
"I hope my peers actually take this seriously and don't only post things because it's a trend or they're afraid that if they don't post it then they'll get attacked. I hope that if they protest or if they type up long paragraphs and post it on social media, it's actually genuine and coming from the heart and hope that in this time they try to put themselves in a Black person's shoes," Battee said.
For her non-Black peers, Battee advises them to be cognizant of what it means to be an ally and how they can best uplift the Black community.
"Be mindful. Mindful of everyone's feelings, mindful of how they present themselves, and mindful of what they say on social media because once something is said on the media, it's out there forever and people usually don't forget," Battee said.
Battee remains apprehensive over whether her peers' social media support will translate to the classroom. Within the DGS student body, Battee still believes there is work to be done on discussing racial issues with her peers.
"I'm not always comfortable with talking about race and racial issues at my school because I feel that there is a lot of ignorance with people who aren't Black and some people don't care for being careful with their words," Battee said.
Listening and seeking to understand incidents of maltreatment has been one way to actively participate in discussions of Black inequality. Incoming senior Tanaiya Lake shares a defining moment in her life that shaped her perception of racial injustice on a personal level.
"My dad was driving [my mother, sister, and I] and he was pulled over. The police discovered a problem with his license and my mom said she would drive instead since it was her car… Before she could even try to talk and cooperate with the police, they took my father out of the car and slammed his face against the window in front of me and my sister's eyes. I was devastated and I didn't understand why until I got older," Lake said.
Lake is an active member of Umoja Club, a group that seeks to amplify the voices, history and traditions of Black students within the DGS community. Through the club's efforts, Lake has seen firsthand the responses from her peers to the discussion of Black discrimination.
"I do feel like, to some extent, our peers are racially aware, but they're more scared of saying the wrong thing and being labeled as a racist or intolerant person than to actually open up and have the true and honest conversation about Black culture at DGS. That does scare me because microaggressions, just plain racism and prejudice are very apparent at DGS on small and large levels," Lake said.
Lake holds hope for a future where Black culture is celebrated and respected.
"I just hope that people will celebrate, appreciate and give credit to all Black creators. [I hope] Black people will be more celebrated for our successes instead of being ignored or only being acknowledged when horrible things are happening in the media or by secondhand stories. I do believe that soon Black culture will be seen for its beauty and excellence that every Black person has and expresses in many different ways, which makes my Black community so strong and amazingly gorgeous and unique," Lake said.
Incoming senior Gbemisola Akitunde-Nieves participated in the protests that took place in Chicago on May 30. As someone who had attended a protest before, she had an idea of what she was stepping into on that Saturday morning.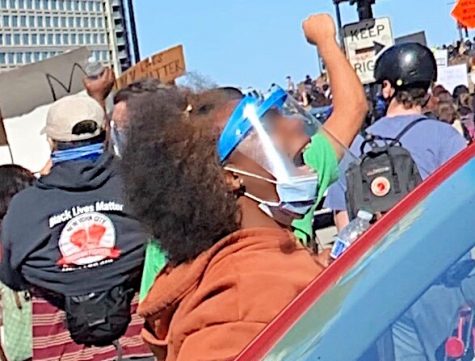 "I knew I could be seen as a threat to others [because I was in] such a large group of hurt people. I've seen things and dealt with unsettling situations that I shouldn't have to go through being a 17 year old girl, from cops pushing and hurting peaceful protestors to hearing racial slurs from people who don't support this movement. Although I was safe and continue to be safe, it doesn't dismiss the fear that I myself and others have," Akitunde-Nieves said.
Throughout these injustices, Akitunde-Nieves held on to her strong personal beliefs. She makes an effort to create an environment of people who understand and uphold her values.
"I grew up knowing [being Black] was my greatest strength, but in our current times it can be seen as my weakness. As I continue to grow as a person, I learn and choose to surround myself with those who are educated and understand the systemic issue we face as a Black community," Akitunde-Nieves said.
"
I grew up knowing [being Black] was my greatest strength, but in our current times it can be seen as my weakness."
— Gbemisola Akitunde-Nieves
Akintunde-Nieves thinks that while posting on social media does help to spread awareness, she hopes her peers will take further action to show their support. She cites ways in which allies can self-educate and give back to the Black community.
"Not only can you donate, but you can go out and help clean our communities, have conversations with people who are willing to learn, support small businesses, not only in Black communities but everywhere… go out to find books, watch movies, read articles about Black history, and protest. If you can't protest for safety reasons you can always bring water or food for protestors or even just honk your horn when you see them," Akitunde-Nieves said.
She believes that while the usage of the social media landscape to uplift the Black Lives Matter movement has begun to set a precedent for forthcoming activism, it is imperative that these future efforts extend beyond the confines of a screen.
"If we continue to educate our youth and tell them the truth about what is going on, we can help stop the problem. Being aware of your privilege in this country can help not only you but can show others that change is possible. You don't have to be a part of the Black community to make a change," Akitunde-Nieves said.
To support the Black Lives Matter movement: blacklivesmatters.carrd.co
Additional informational resources: schoolcounselor.org , adl.org