DGS building repurposed to help community during COVID-19; MFP work continues while students are away
More stories from Jacqueline Barba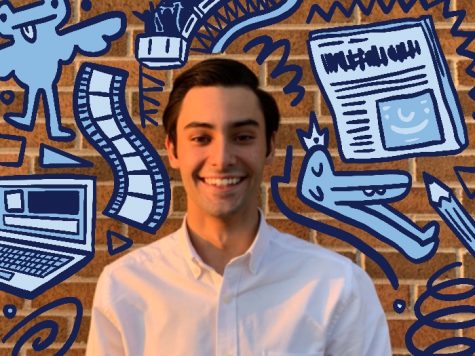 More stories from Alex Miranda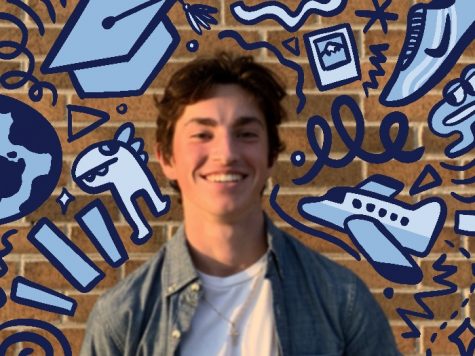 More stories from Luc Alvarez
As of April 23, 41 days have passed since the student body has attended class within the walls of the DGS building. While the hallways may appear deserted without thousands of students to fill them, the campus is anything but abandoned. With meal preparation and packaging in the kitchen, 3D printers generating face shields in the classrooms and building construction underway, DGS has found ways to repurpose its facilities while students are remote learning.
While students can no longer gather in the cafeteria for meals, DGS staff is making efforts to guarantee that all students are fed, especially those in need. According to the Illinois State Board of Education, 27.9% of DGS students are classified as low income. This student population is more likely to qualify for free or reduced lunch services, which became unavailable when remote learning was implemented. Partnering with transportation service First Student, DGS is able to join in an initiative ensuring community youth has access to meals from home.
Every Tuesday and Thursday from 11 am to 1 pm, children ages zero to 18 can receive three breakfasts and three lunches at participating meal pick-up locations.
DGS principal Edward Schwartz details the preparation logistics and availability of the pick-up meals.
"Much of the preparation occurs in the kitchen at South High. The staff that works in our cafeteria and food service are doing the work here. We now give food to whoever needs it, not just students on free or reduced lunch," Schwartz said.
Schwartz believes the meal pick-ups are a necessary part of creating optimal learning conditions for students working from home.
"Food is a basic necessity. If anyone is hungry, they cannot focus as well. We have distribution sites at most elementary schools so that they are in nearby neighborhoods to our students," Schwartz said.
Participating elementary schools include Kingsley in Downers Grove and Goodrich in Woodridge. The full list of participating meal pick-up service locations are available here.
Director of DGS Student Activities Jennifer Martinez shares her experience with transportation provider First Student.
"Each driver is absolutely wonderful. They have been part of our caring team to help our district ensure that the meals are delivered to our students. Without the drivers, it would have been very difficult to get the food to the students. They are familiar with the streets, the routes, and they also simply care about kids," Martinez said.
Martinez explains that although social distancing guidelines have imposed unique challenges on the district, DGS has found ways to connect with others while adapting to the realities of the pandemic.
"Staying apart from each other isn't easy. But, in the middle of this difficult time, I am so proud of all the acts of kindness I have seen. Our meal delivery, donating PPE [personal protective equipment] to hospitals, using 3D printers to make face shields, being resilient and learning together [have united us]," Martinez said.
Another major development within the DGS community has been the repurposing of the school's 3D printers to develop face shields for healthcare workers fighting on the frontlines of the COVID-19 pandemic.
Schwartz recounts the emergence of this project.
"A principal friend of mine at East Leyden [high school] shared what his teachers were doing. I linked our teachers with their teachers and things just exploded. [DGS teachers Mark Molinari, Scott Parker, and Ryan Altenburg] kept refining the plans to make them more efficient and productive," Schwartz said.
The D99 press release, as provided by DGS Biology and Biomedical Science teacher Scott Parker, describes the face shield in detail.
"The face shield, which includes a plastic head piece and clear shield, can be sanitized and reused. The team does not warrant the masks for any particular purpose; users need to assess the effectiveness of the shield depending on their situation."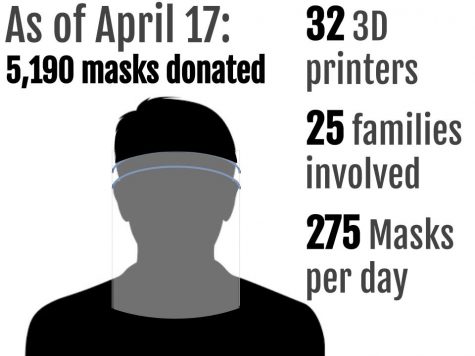 The press release continues, outlining the capabilities of the 3D printers: "The 3D printers can generate over 175 face shields per day, and over 2,000 orders have been placed by local medical workers in need of this protection. The team is working seven days a week on all 12 3D printers at both schools to fulfill the orders. Three of the 3D printers were gifted by District 99 Education Foundation grants."
As of April 17, 5,190 face shields have been donated, with over 20 community families taking part in the assembly and delivery of this equipment. Schwartz shares how the abundance of community support led to the establishment of a COVID-19 family assistance fund.
"So many people stepped up wanting to donate to the face shields project, so we partnered with the District 99 Education Foundation to create a COVID-19 family assistance fund. The money has already completely funded the expenses of the face shield production and now there is a substantial amount to assist our families in need. We are meeting next week to work out details, but hopefully we can support local businesses while assisting our families at the same time," Schwartz said.
But perhaps the most drastic developments have been visual ones. With in-person classes no longer in session, the DGS Master Facility Plan has accelerated its timeline.
"After school was cancelled, we knew that we wouldn't have time after spring break to produce a musical, so we decided to let construction begin immediately. [As of] today, most of the auditorium has been demolished. We were also able to do some work that would have had to wait until summer," Schwartz said.
Schwartz communicates that students can expect extensive renovations to the DGS building when they return this fall.
"The biggest change is that the new addition will be done and classes will be held there. Also, the bleachers and squad rooms will be done. We will have plywood construction walls in some areas, but with the early start on some projects, that might be minimal when school begins," Schwartz said.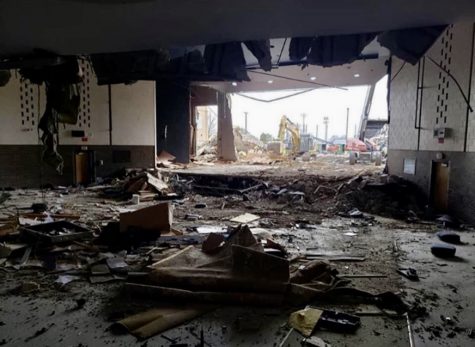 Students should not expect to see the wooden first floor A hallway, nicknamed the "Home Depot hallway" by many, upon re-entering the building in August.
"The wooden walkway, which was removed, will return in the form of a temporary walkway. If progress continues as it has, it is now possible that the temporary walkway might actually be under the new roof of the learning commons," Schwartz said.
While students had to say an unexpected and early goodbye to the DGS campus this March, they can currently take comfort in knowing that the building is still being put to good use. When students return next fall, they should be proud to know that the school they call home continues to be "respectful, responsible and engaged," even while facing challenges in uncertain times.
Leave a Comment