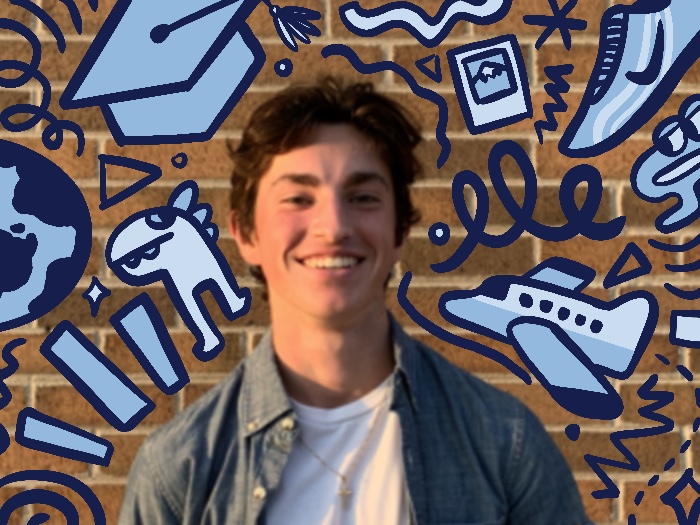 Senior Luc Alvarez is an Editor-in-Chief in his second year on the Blueprint staff. At DGS Alvarez runs varsity on the cross country and track teams where he has received All-Conference honors and been selected as Team Captain. In addition to running, he is an honor roll student, a math and English tutor and a member of ACE, NHS and SNHS.
Outside of school, Alvarez is a director and performer for the Trinity Irish Dance Ensemble -- a world-renowned Irish Dance performance group. Alvarez, a two-time world medalist, has performed in a variety of venues, from the floor of the Chicago Bulls and Blackhawks games to onstage at the House of Blues in Chicago. During the past few summers, Alvarez has traveled to Italy, Portugal and Spain to perform with his group.
In his free time, Alvarez enjoys traveling around the world, listening to music and hanging out with friends. Additionally, Alvarez is a sports enthusiast and cheers for the Chicago Bears and Chicago Bulls religiously while holding his countless fantasy football championships as some of his proudest accomplishments.
Luc Alvarez, Editor-in-Chief
Jan 16, 2021

Gambling with students' lives: Board would set dangerous precedent by raising positivity rate metric

(Story/Media)

Jan 08, 2021

Return to hybrid learning draws mixed reviews

(Story/Media)

Nov 18, 2020

COVID-(20)19 and beyond: COVID-19's impact on the education of today and tomorrow

(Story/Media)

Nov 16, 2020

Caffeine addicts: Teens tripling recommended intake to get through day

(Media)

Nov 04, 2020

Traffic jam at DGS: Parking lot getting a little too hectic with new hybrid schedule

(Media)

Nov 03, 2020

Top 10 reasons people have for not voting (and why they're dumb)

(Story/Media)

Nov 02, 2020

First look at hybrid learning

(Media)

Oct 30, 2020

What Halloween costume should you wear this year?

(Story)

Oct 27, 2020

DGS sets up triage area to aid in COVID-19 response

(Story/Media)

Oct 26, 2020

Letter to the editor: Introduction from former DGS students

(Media)

Oct 23, 2020

A comprehensive guide to Black Lives Matter

(Media)

Oct 23, 2020

Better on paper than in practice: Modified hybrid plan falls short

(Story)

Sep 22, 2020

District 99 adopting modified hybrid schedule effective Oct. 19

(Story/Media)

Sep 14, 2020

District 99 spent months planning remote learning; is this really the best we can do?

(Story)

Aug 14, 2020

District 99 starting 2020-2021 school year fully remote

(Story/Media)

Aug 04, 2020

District 99 Board approves hybrid learning plan for 2020-2021 school year

(Story/Media)

Apr 24, 2020

One month later: How Downers Grove has adapted to living under social distancing guidelines

(Story/Media)

Apr 23, 2020

DGS building repurposed to help community during COVID-19; MFP work continues while students are away

(Story/Media)

Apr 22, 2020

Remote learning reviewed

(Story/Media)

Mar 25, 2020

The Weeknd's 'After Hours' proves artist is not the 'Hardest To Love'

(Story/Media)

Mar 12, 2020

Editorial: Washings hands first sign of defense; school sinks inadequate against Coronavirus

(Story/Media)

Feb 26, 2020

Speech team wins IHSA state title by one-point margin

(Story)

Feb 18, 2020

Decade recap: How DGS has changed throughout the 2010's

(Story/Media)

Feb 18, 2020

Umoja's 'For the Culture' Creative Show gives voice to black students

(Story/Media)

Feb 04, 2020

Top 10 Tuesday: Yung Gravy Tracks

(Story/Media)

Jan 28, 2020

Master Facility Plan will cost taxpayers $32.7 million less than previously projected

(Story/Media)

Jan 24, 2020

Award show season fails to represent music and film industries

(Story)

Jan 22, 2020

Let your zodiac sign decide what Girl Scout Cookie you should have

(Story/Media)

Jan 14, 2020

Girls track and field gears up for 2020 season

(Story)

Jan 07, 2020

Rating the trendiest gifts of the holiday season

(Story/Media)

Dec 05, 2019

Gen Z uses TikTok to reinvent what social media means to them

(Story/Media)

Nov 22, 2019

DGS teachers and students strive to engage students politically

(Story/Media)

Nov 15, 2019

Pedestrian safety consultants work to solve community members' concerns

(Story/Media)

Oct 30, 2019

Kanye West's 'JESUS IS KING' is 'Everything We Need' in 2019 rap

(Story/Media)

Oct 22, 2019

Top ten Tuesday: Flexes from our childhood

(Story/Media)

Oct 22, 2019

District 99 Board approves e-learning days as replacement for emergency days

(Story/Media)

Sep 27, 2019

DGS girls cross country dashes towards state title, nationals bid

(Story)

Sep 23, 2019

Weekly Preview: 9/23-9/27

(Story/Media)

Sep 16, 2019

Boys cross country team runs off of positive dynamic

(Media)

Sep 16, 2019

DGS students preparing to take stage at variety show

(Story/Media)