Speech team wins IHSA state title by one-point margin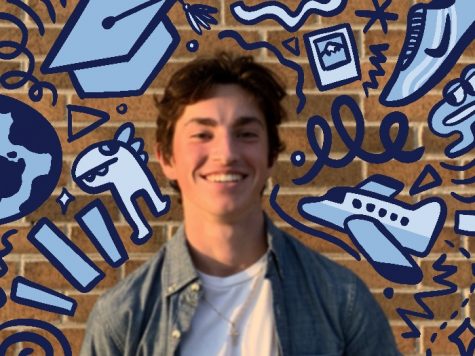 More stories from Luc Alvarez
On Feb. 22 the DGS speech team's season culminated in a state championship, narrowly beating out Belleville West and rival Hinsdale Central by one point and two points, respectively. The team was led by its three state champions: seniors Peter Burrows and Caroline Venetis and junior Alaina Vergara.
While success may not be new to the distinguished program with 19 team state titles, this didn't make the victory any less special. Venetis, who performed with Burrows in Dramatic Duet Acting, described how it felt when they were named state champions.
"[I]t was such a rush of adrenaline. I was so proud of both of us and all the work that we put in during the season. Winning state as a team is such an amazing accomplishment because it truly as a team effort," Venetis said.
While victories and state champions may come and go, what's stayed the same over the years has allowed the team to remain dominant. According to speech team head coach Justin Matkovich what has remained constant over the years is the team's legacy of success.
"The thing that really stayed the same about this team is the legacy of what DGS speech is. Having any kind of success that our program has had over the [years], I think that there's something about having a program that has that much history that makes every student who's a part of this team have expectations to do well and also have a little pride to be part of that," Matkovich said.
Vergara believes that these expectations for success have translated well for the program and provided motivation for each member of the team to reach his or her goals.
"Everyone started this year off with determination, and we all wanted to do better than we had last year. We put in an unbelievable amount of effort to get to this point, and we were all so proud of how far we had gotten that I think we achieved that goal even before we won state," Vergara said.
As with any year, the speech team faced adversity in this year's season after placing second at regionals as well as sectionals, losing to Hinsdale Central. Additionally, an unexpected challenge came in the form of Burrows falling the night before his final round and spraining his shoulder. Burrows's coach believes this perfectly sums up the team's season.
"Peter Burrows, on the night before finals, sprained his shoulder to the point where he could barely move his arm and had to fight through it but was still able to end up as a double state champion. I think that's kind of the perfect analogy of the season of how this year was specifically because it wasn't an easy season for whatever reasons, but we were still going to push through it this year," Matkovich said.
The team isn't done yet, with many speech members competing on March 7 in hopes of qualifying for Speech Nationals, which will take place the week of June 14 in Albuquerque, N.M. Vergara, who is planning to attend assuming she qualifies, talked about what she's looking forward to at Nationals.
"I love competing at Nationals because it's so different from State. Although we don't usually place as a team at Nationals, it's an amazing experience to learn from the talented performers there. It's also really cool to make friends from all over the country and to see how far we can get in the competition," Vergara said.
Further past that, the team is already looking to next year in hopes of repeating as state champions. Even with many of the team's top finishers at state graduating, Matkovich is confident in the abilities of next year's team to continue the team's success.
"[Former head coach] Jan Heiteen always had a saying that at DGS speech 'we don't rebuild, we reload,' and what that means is that we have so much talent on this team that it's always about reloading for the next year. We have so many students who are talented [that didn't compete at state], that next year we're not going to be in a rebuilding mode, but that next year we are going to have a good shot at being competitive," Matkovich said.
The National Speech and Debate qualifiers are on March 7.