DGS sets up triage area to aid in COVID-19 response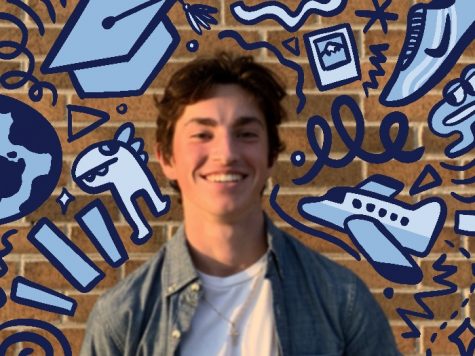 More stories from Luc Alvarez
Since the beginning of the COVID-19 pandemic, DGS has done aimed to curb the spread of the virus and assist the community by 3-D printing face shields, delivering meals to families and abiding by the health department's guidelines in its reopening plan. Continuing with this trend, DGS has set up a triage area in the school to isolate students with symptoms and help reduce the spread of COVID-19.
The triage area is currently set up in the faculty cafeteria, serving as a place for students to be evaluated for COVID-19 symptoms. They are then either sent back to class or isolated and then sent home.
The triage center was set up in mid-August following recommendations from a task force that included nurses and administrators. These findings were based on guidelines from the Centers for Disease Control and Prevention (CDC), Illinois Department of Public Health (IDPH) and DuPage County Health Department (DCHD).
School nurse Gloria Barrera described what the triage area will look like in practice.
"The triage area is serviced by an agency nurse, Ms. Christina Cicero, hired by the district for this academic school year. The triage nurse is responsible for assessing students demonstrating COVID-19 symptoms and isolating the sick. She is a valuable part of our nursing team here at DGS," Barrera said.
If Cicero believes that a student does have COVID-19 symptoms, that student will be sent home and told to wait for further guidance. Most likely, that student will be instructed to quarantine for 10 calendar days or until they receive a negative COVID-19 test result.
This triage area is just one part of DGS's response to the COVID-19 pandemic; other health guidelines and protocols have been put in place to prevent a potential outbreak at DGS. Senior Jonah Sprandel, who is taking classes at both DGS and North Central College, noticed some differences in procedures between the two schools.
"Compared to North Central College, DGS's health and safety protocols are definitely more strict… North Central does not require students to wear shields, bring self-certification slips or disinfect desks, but masks are still required on campus, desks and study areas have been spread out to meet social distancing guidelines and disinfectants are available outside classrooms," Sprandel said.
Sprandel continued, "However, the protocols at DGS seem to be less effective due to the nature of high school. For example, in high school, large groups in hallways are inevitable, students are more likely to drive together and extra space for social distancing is limited. In addition to being less effective in terms of safety, the extensiveness of protocols at DGS has caused my learning there to be arguably less effective than at North Central."
Some students differ from Sprandel in their perception of how strict DGS's health protocols are and their effect on students' safety. Freshman Reese Bewley, whose younger brother goes to school in District 66, explains.
"I believe that DGS has done a good job at protecting the students and keeping them safe from COVID-19. DGS's health and safety protocols I believe are much better than District 66's health and safety protocols because District 66 is only having the students wear face masks in the halls where DGS is taking the extra step by having all students wear face shields in the halls," Bewley said.
Either way, with students spending the majority of their time off campus, school rules can only do so much. This is why Barrera believes DGS students have a vital role in preventing a potential outbreak in the DGS community.
"You [students] can do your part to respond to this pandemic [by following] the guidelines in place. Your cooperation is integral to the ongoing public health response to slow the spread of COVID-19. Stay home when you are sick and be sure you notify us if you or someone in your household tests positive," Barrera said.
For further information on DGS's COVID-19 protocols and guidelines from the state, DGS community members can view the district's COVID Procedures and the IDPH's exclusion guidance chart.