District 99 adopting modified hybrid schedule effective Oct. 19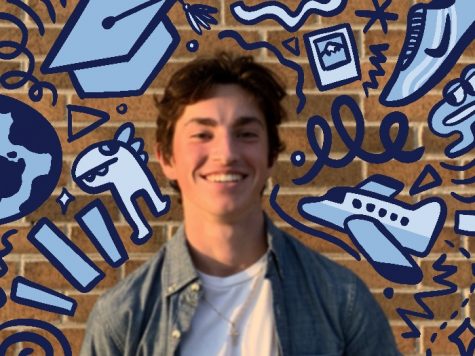 More stories from Luc Alvarez
Beginning the week of Oct. 19, District 99 will move to a modified hybrid schedule. Over a two-week span, each student will have one in-person class for each of their class periods with the rest of their class periods occurring remotely. Every third week will remain fully remote.
Teachers will teach remote and in-person classes simultaneously with half the class in the classroom and the other attending via Zoom. Groups of students will be broken up alphabetically to determine which in-person class periods they attend.
Superintendent Dr. Hank Thiele explained the rationale behind this new modified hybrid schedule.
"As we've looked at the health guidelines and have tried to do this in minimal and moderate transmission levels, our priorities have changed a little bit. Obviously following the safety guidelines [and] social distancing but a new factor that was introduced under these new guidelines is the limiting of mixing of groups… so we've cut down [the number of periods to two]," Thiele said.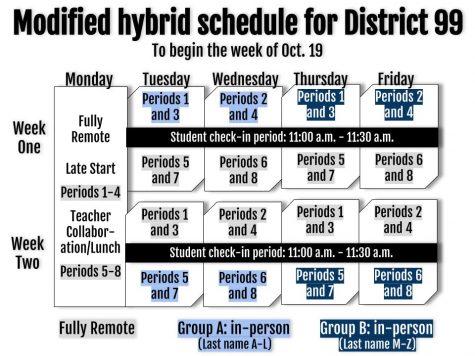 To compensate for this and to ensure every student sees their teacher each week, remote and in-person classes will occur together with teachers teaching both groups from the physical classroom — teaching to both a class and a Zoom call. Thiele acknowledged that this change does come with some drawbacks.
"Once we move to this model, we can only bring in half the students at a time, so you're going to have some students learning remotely and some students learning in-person. There's going to naturally be a reduction in the effectiveness of the minutes during that time. Everything is tradeoffs," Thiele said.
He continued, stating, "For the time the students are here though, we want to maximize that time and have experiences that would be very difficult to have remotely and shift the things that do work remotely to the remote sessions."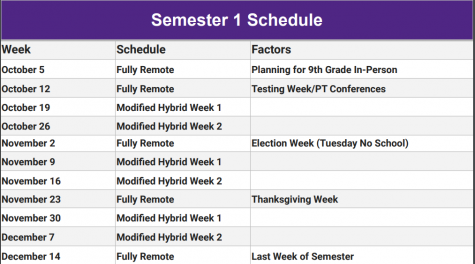 Thiele believes that these tradeoffs are worth it so that students can receive in-person instruction where he feels learning will be more effective and student-teacher relationships will be strengthened. These tradeoffs may not be an option if DuPage's community transmission levels change from moderate to substantial.
"As soon as we move into substantial we're going to have to have some serious conversations with the health department to see if it's appropriate to bring in all students back for a hybrid model and if it's appropriate to continue to do things like activities, athletics and those kinds of things," Thiele said.
Many logistical concerns remain as the district continues to determine which spaces will allow proper social distancing measures, which students will be opting-out in favor of remote learning and how transportation will be handled. Teachers will also have to adjust as they move their curriculum from fully remote to balancing remote and hybrid learning simultaneously. While English teacher Zachary Kuhn acknowledges that this new schedule will bring challenges, he's optimistic that his classes will be able to make it work.
"[There's going to be] lots of challenges, but I never thought they'd get 2700 kids their textbooks, and they solved that one in like 24 hours. I only worry about the things I can control, so my classroom will be fine. We'll borrow some ideas from other teachers and we'll learn as we go," Kuhn said.
While some members of the district share in Kuhn's optimism that they'll be able to make the new modified schedule work, others are less confident. Senior Nolan Chaidez is among those that still have doubts about returning to school.
"I want to opt-out until second semester if possible, mainly because I've been doing better mentally with school. I'd rather wait and see how it plays out before going back since this is basically the test run," Chaidez said.
Over the next few weeks, both the district and the student body will have a lot to sort out as the district solves remaining logistical concerns and students decide between returning to school or opting out of hybrid learning. This decision period remains open from now through Sept. 25.
Leave a Comment