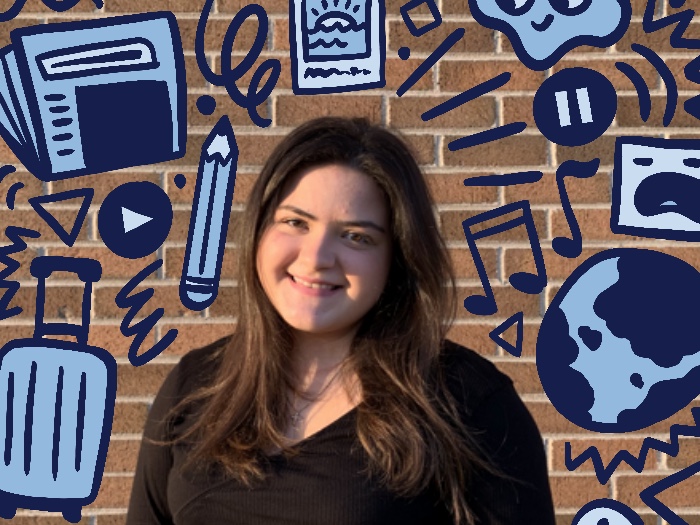 Jackie Barba is a senior at DGS and is in her second year on staff as Editor-In-Chief for the Blueprint. Barba is also a state competitor for the DGS speech team, a member of the Read-Aloud club, a Mad Dash director and a Girl Scout since Kindergarten.
In her free time, Barba finds continued motivation in her love of travel. She is currently planning to visit London, Paris, Florence and Rome next summer. Additionally, Barba is fond of learning new languages, immersing herself in different cultures, wandering through bookstores and taking road trips.
The University of Missouri in Columbia or Northwestern University are potential colleges she would like to attend as a major in journalism or pre-law. Ideally, she wishes to incorporate her passion for travel by studying abroad.
Jacqueline Barba, Editor-in-Chief
Oct 06, 2020

The ugly side of (his)tory

(Story/Media)

Sep 30, 2020

Dear America, the presidential debate was a wreck we should've seen coming

(Story)

Sep 16, 2020

District 99 Board of Education shares new guidelines that will shape future hybrid learning plans

(Story)

Sep 16, 2020

Casey McQuiston's 'Red, White and Royal Blue' is the romance read you've been searching for

(Story)

Jun 04, 2020

Black voices for Black Lives Matter: DGS students speak out on racial inequality

(Story)

May 14, 2020

Under the microscope: An inside look at DGS's Research Club

(Story/Media)

Apr 27, 2020

Tara Westover's 'Educated' redefines what an education is

(Story/Media)

Apr 23, 2020

DGS building repurposed to help community during COVID-19; MFP work continues while students are away

(Story)

Mar 24, 2020

District 99 confirms first COVID-19 case within school community

(Story)

Mar 23, 2020

SAT and ACT cancelled; AP Exams online amid COVID-19 outbreak

(Story)

Mar 18, 2020

Focused on the future: DGS students respond to COVID-19 complications

(Story)

Mar 13, 2020

Friendship Friday: Katie Rabig and Megan Mosebach

(Story/Media)

Mar 13, 2020

'American Dirt' book whitewashes experience of Mexican immigrants

(Story/Media)

Feb 26, 2020

Speech team wins IHSA state title by one-point margin

(Media)

Feb 18, 2020

Mom, dad — I 'seriously' need contacts

(Media)

Feb 14, 2020

'To All the Boys P.S. I Still Love You' does not meet standard set by first film

(Story/Media)

Feb 05, 2020

Super Bowl Halftime Show receives unwarranted, sexist controversy

(Story/Media)

Jan 24, 2020

Gee dazzles with synchronized figure skating team

(Story)

Jan 22, 2020

Colson Whitehead's 'The Nickel Boys' unearths the bones in America's racist past

(Story/Media)

Jan 07, 2020

Fascinating facts about Stephanie 'Millie' Peterson

(Story/Media)

Dec 16, 2019

Harry Styles walks the 'Fine Line' between finding his sound and evolving as a singer

(Story/Media)

Nov 06, 2019

Discover what Thanksgiving dish you are

(Story)

Nov 05, 2019

'Dr. Jekyll and Mr. Hyde' thrills audiences Nov. 1 – 2

(Story)

Oct 24, 2019

Art students paint a picture of what SEL means to them

(Story)

Oct 18, 2019

Village of Woodridge addresses cannabis sale questions

(Story/Media)

Oct 16, 2019

Junior Chris Sapinski puzzled by challenge of finding harder classes to take

(Story/Media)

Oct 16, 2019

Find out what Halloween film you are based on your horoscope

(Story/Media)

Oct 09, 2019

Workshop helps students become 'changemakers'

(Story/Media)

Oct 04, 2019

Stephanie Peterson says bonjour to DGS

(Story/Media)

Sep 18, 2019

Why Netflix romance movies are their own genre of bad

(Story/Media)

Sep 16, 2019

Weekly Preview: Sept. 16– Sept. 20

(Story)

Sep 11, 2019

Why you won't be loving 'Falling Inn Love' anytime soon

(Story/Media)

Sep 10, 2019

Want to join newspaper club?

(Story)

Oct 16, 2018

Four years of leadership: Abby Carlson's strive for initiative

(Story/Media)