Friendship Friday: Katie Rabig and Megan Mosebach
More stories from Jacqueline Barba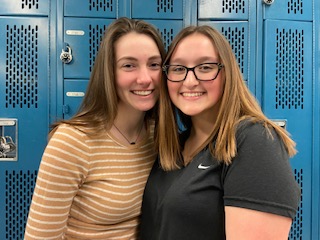 Born just five days apart, juniors Katie Rabig and Megan Mosebach have been friends for as long as they can remember. Growing up as neighbors for eight years, Rabig and Mosebach reflect on 16 years of friendship.
"Megan and I have been best friends since we were babies. We both have two older brothers who were friends as kids and Megan and I clicked instantly when our parents introduced us to each other. She was my next door neighbor for 8 years and I couldn't ask for anyone better to be friends with." Rabig said.
Mosebach shares one of her favorite memories of them together.
"A funny memory between Katie and I was when we were about 4 and we sat on my front lawn with Katie's dad and sang songs about peanut butter and jelly sandwiches." Mosebach said.