A year like no other: DGS social workers and school psychologists adapt to remote learning
November 23, 2020
The 2020-2021 school year has brought challenges for students and staff members alike; however, DGS school psychologists and social workers have found themselves facing a range of hurdles completely different from that of a traditional classroom. During a pandemic that has taken a toll on students emotionally, socially and mentally, DGS school psychologists and social workers had to quickly adapt to a new environment and find innovative ways to translate their work to a virtual setting— all while knowing their expertise was needed now more than ever.
The four years that students spend in high school can be some of the most formative years of their lives. With a range of new experiences, feelings and responsibilities, having a support system in place for students is key. Principal Edward Schwartz shares the role of social workers and school psychologists at DGS and in students' lives.
"Student support services deals with a lot of the holistic things about kids. [Kids] are developing here in these years and not just academically, so [they deal with] the social and emotional part and everything related to that," Schwartz said.
Some of the responsibilities of the social workers and psychologists at DGS include providing individual and group counseling support to students, providing crisis intervention, promoting mental health awareness, assisting with identifying and evaluating students for Special Services and maintaining communication and consultation with other counseling and student support services members and DGS staff in order to support students' emotional needs.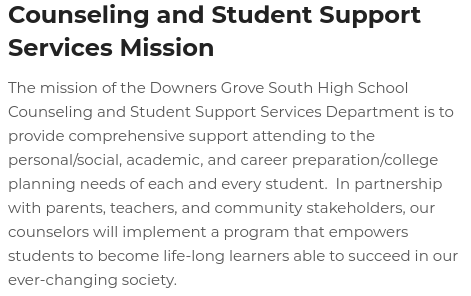 With the move to remote learning at the end of the 2019-2020 school year came preliminary hurdles. Moving sessions with students to a virtual setting presented a new set of challenges; DGS social worker Tracy Salvatore details some of the first obstacles she encountered when remote learning first began.
"Some of the initial road bumps were figuring out how to reach and support students in a remote environment. We were not able to provide telehealth sessions when school first shut down and many students were not responding to their email. Many families were overwhelmed with learning how to juggle 'home school' and working from home, and basically just trying to figure out how to survive during the lock-down; so it was a balance with offering support while not adding to families' overwhelming stress during that time," Salvatore said.
Besides finding new ways to give support virtually, staff themselves were feeling the impact of the pandemic while trying to navigate their new work situation. Social worker Elizabeth Galati sheds light on how the first stages of working from home affected her personally and how she has adjusted.
"Initially, I felt very disorganized working remotely, and I am typically a very organized person. I have had to create a new 'work space' in my home and that has been helpful. I also make sure to practice what I tell my students: create a routine, limit distractions, ask questions and then ask more questions. This has helped me tremendously to maintain a sense of normalcy and feel as organized as possible," Galati said.
With the commencement of the 2020-2021 school year, staff members had a better understanding of what their challenges were and how to approach them. While navigating this school year has benefited from previous experience, the most difficult barrier remains — being unable to see students in-person.
For school psychiatrist Catherine Robinson, being unable to see students face-to-face has become the most formidable issue. Unable to read student's nonverbal clues, she finds it difficult to bond with students as easily as in-person.
"Building rapport and relationships with students online is more difficult than in-person; especially if some students won't turn on their cameras. I can't read their facial expressions, observe their behavior or learn some of their mannerisms," Robinson said.
DGS school psychiatrist Monica Muciaccia echoed Robinson's feelings. Sitting behind a computer screen can make it difficult to create a connection with students but having students turn on their cameras is effective in helping to bridge that divide.
"
It's different when we see people's faces, assess their emotions through nonverbal communication, but that simply can not happen now for safety reasons."
— Monica Muciaccia
"It's different when we see people's faces, assess their emotions through nonverbal communication, but that simply can not happen now for safety reasons. Luckily, we can see faces over the computer so that helps when working with students. There is a sense of disconnection at times working behind the computer all day, but we make it work," Muciaccia said.
Despite the two weeks that students participated in hybrid learning, social workers and psychologists were still unable to see student's face-to-face. Schwartz shares how due to limited classroom time, administration asked student support services to not pull kids out of class.
"The few times we have been in-person for those few weeks, we asked them not to take students out of class because in-person class time was so small. We didn't want them taking kids out of class, so we kind of stretched them even further," Schwartz said.
Remote learning has also made students harder to reach than ever before. Relying on emails for communication has posed a special problem for freshman students who might be unfamiliar with their support system and how to reach out. Galati shares how remote learning has made it harder to not only connect with new students but communicate with them.
"This is especially true for our freshmen and transfer students. They might not know who their alpha team is or that they even have a social worker or psychologist. Remote learning has certainly limited our options to be able to meet new students and provide support if they do not regularly check their email," Galati said.
Freshman students may be hesitant to engage if they do not know their social worker or psychologist. Salvatore shares that while new ways have been implemented to connect with students virtually, it is much harder to actually do so than it was in-person.
"It is harder to get to students, especially those who I have not worked with in the past. At school, I can just send someone a pass and meet with them privately in my office. Now students have to receive my calendar invitation or meeting link, remember to sign in and sit in front of their screen for even longer and those who don't know me may feel more reluctant to engage," Salvatore said.
While some of the activities the CSS department is in charge of have been moved online, others have had to be placed on hold while students remain at home. During the school year, DGS social workers run a variety of support groups and programs but due to the low attendance expected, Galati shares that those programs have been unable to take place.
"We typically run between 12-15 support groups each year, and we have not been able to run those this year due to the changing remote [and] hybrid schedule and overall low attendance we would anticipate with a virtual group. We have had to modify classroom presentations to Zoom presentations. Our individual counseling with students and parent meetings now take place virtually," Galati said.
However, while some programs have been suspended, many continue to take place despite the inherent challenges of remote learning. Muicaicca shares how she remains "busy as ever" despite the reality of this distinct school year.
"I have been able to continue everything I typically do in a work day, it is just in a roundabout way. I still see students for sessions individually and some support groups for transfer students and social skills are running. I have IEP meetings, teacher consultations, parent meetings and even do crisis management. I am as busy as ever," Muicaicca said.
Creating a safe space for students to get help has also posed a new challenge. For many students, being able to freely share their thoughts and feelings means having a private space. Salvatore details the inherent issue with a lack of privacy while at home that can inhibit students comfort with openly sharing.
"Some students do not have privacy in their homes to talk openly with me during our meetings. Confidentiality is key for many students to feel comfortable to open up and get support for personal issues. If they have family stress, for example, how can they get adequate support from me on their chromebook while they are sitting in the room with their family?" Salvatore said.
"
Confidentiality is key for many students to feel comfortable to open up and get support for personal issues. If they have family stress, for example, how can they get adequate support from me on their chromebook while they are sitting in the room with their family?"
— Tracy Salvatore
In spite of these difficulties, remote learning has not been a completely negative experience. While not everyone may enjoy the remote school schedule, some students have discovered it complements their learning patterns. Muicaicca shares that many students have appreciated the opportunity to learn from home during these uncertain times.
"From my understanding, there are a lot of students who are enjoying the opportunity to be at home during a fearful and traumatizing time period. For some, it suits their learning style and they wish to continue learning this way even when the pandemic is over. I can see how this style of instruction can be helpful to students who really struggle with the typical 8-3:20 school day," Muicaicca said.
That being said, social workers and school psychologists alike recognize the impact this pandemic has had on the school community as a whole. Galati details how "the collective trauma" the school has experienced during the pandemic has shaped their work with students and made it all the more necessary.
"There is no doubt that the COVID-19 pandemic has had psychological and emotional impacts on our students and staff and a large part of our work with students has shifted to crisis response and from a trauma informed approach as a result of the pandemic. We recognize the collective trauma this pandemic has had on the world and we know now more than ever, that students need us, all of us at DGS, and we will be here, even if that means remotely," Galati said.
Leaning on their support system is just one of the ways students can help navigate the emotions and difficulties of learning during a worldwide pandemic. Robinson hopes students know that help is available and ready if they need it.
"Reach out if you need help. Isolation can be gruesome and there are people that can help and are there for you. We will get through this pandemic; just reach out to someone, anyone," Robinson said.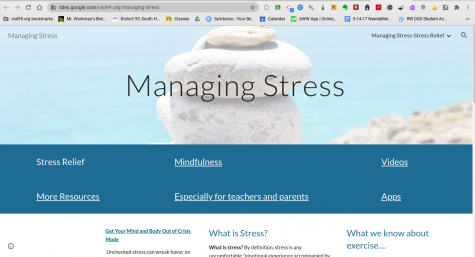 Despite the challenges of adapting their work to function virtually, the department remains optimistic of the future. Galati shares what she has learned from seeing the DGS community adapt to this unprecedented way of learning.
"I learned that the students, staff, and administration at DGS are incredibly resilient. I learned that when a global pandemic forces students and staff to learn and work remotely, the DGS staff will do everything they can to make sure their students are continuing to receive the best education possible given the current circumstances. I learned that this pandemic affects everyone and their families differently and we need to be present and intentional about how we support one another," Galati said.
To get help, students can reach out directly to their counselor, psychologist, social worker, dean or any adult at school who can help connect them to support. To find your social worker or school psychologist, click here.