Art students paint a picture of what SEL means to them
More stories from Jacqueline Barba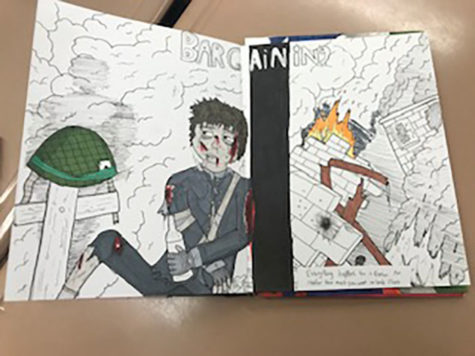 Art students at DGS have been in a frenzy of activity creating a composition from scratch. DGS's combined Drawing 3 and Studio Art classes have been drawing, binding and gluing together books for their latest project which focuses on SEL, an acronym for Social-Emotional-Learning, and how to incorporate it into their works of art. 
Students first came up with a topic related to a variety of SEL themes, such as self-awareness or relationship skills. They then researched their topics, looked at other artworks related to their topic and made a few small books before moving on to a final product. 
Brainstorming, drawing or painting each page before finally gluing and binding the books produced a physical final creation– a book with student's artwork on each page.   
The assignment was created and taught by art teacher Katherine O'Truk. O'Truk is a current student of the School of the Art Institute of Chicago and this project is part of her thesis. O'Truk hoped to emphasize the importance of what she believes to be the necessary skills and competencies for her students beyond the classroom.  
"[The project] is relatively open-ended. Ideally, they would do brainstorming about a story or an idea or experience or some sort of explanation that connected to one of [the SEL topics]. This can be interpreted to be really open-minded or really specific," O'Truk said. 
Some of the SEL topics' ideas were easier to connect than others, thus leading to different perspectives on the open-ended nature of the project. The variety of SEL topics also brought about a variety of subject matters.
 Junior Jimena Carranza asked peers what their favorite flower was and why. She then drew the flower and included a portion of the quote underneath her drawing.  
"I decided to focus on the perspective of people and how seeing something as simple [as a flower] can have different meanings to different people. I was surprised by some of the responses. Most wrote about a sentence, but others went in-depth," Carranza said. 
Carranza decided to interview strangers instead of simply interviewing friends. She found that this approach helped her to create connections with the people she interviewed.  
"I asked strangers and even though they were strangers, I felt like I was somehow connected to them just by their response. I would have never thought that a simple thing such as a flower could mean so much to people [or] could mean so many different things to different people," Carranza said. 
For Junior Alexis Pragides, the most exciting part of the project was the freedom each student got while creating their books. Pragides, whose book centered around a variety of people's favorite high school memories, enjoyed that not only were students free to choose their own topic but their own means of creating their books.
"I like how much freedom we have with the medium we use within our individual books, along with the ideas we used to create the content inside the books. I used black ink, gold ink and black pens in mine, while others used watercolor, markers, colored pencils, etc. From what I've seen not one book is similar to the other," Pragides said. 
In addition to the freedom that students experienced during the artistic process, Pragides enjoyed the final product as well. This was the first time many of the students had ever made a physical book from start to finish.
"I think it's super cool that I actually kinda know how to make a book. It's my favorite art project I've done so far in all of my art classes. I learned all the parts that go into making one, and it took a while, but it was definitely worth it," Pragides said. 
While the range of art went from fruits to the stages of grief, each book was unique in its interpretations, style and configuration. O'Truk hopes her students are able to apply what they learned during this project in class and outside of it.  
"I hope they sort of think a little bit about how these social-emotional learning competencies are also a part of [their] education. It's not just about the process about how to make the book or how to blend colored pencils, it's also about how art connects to you and your life. Not even looking at just art, it's also about how what you learn in school should help you live your best life as a whole person, not just as an academic in one specific way," O'Truk said.