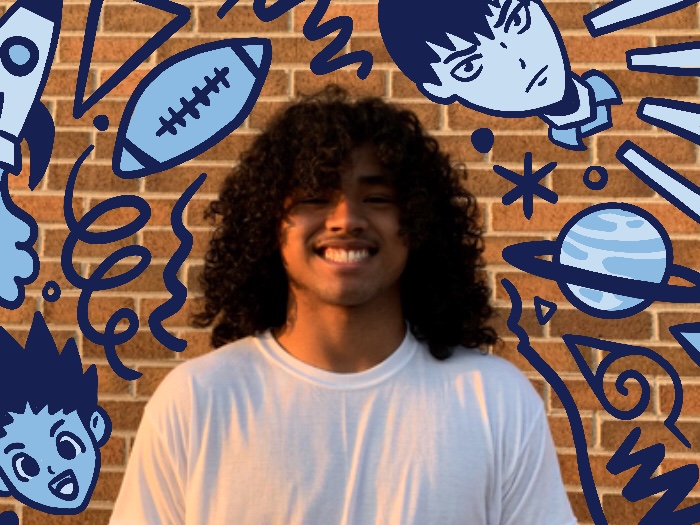 Dreyden McGrew is a senior at DGS and the Print Sports Editor of the Blueprint. This is his second year on the Blueprint staff. McGrew is also a varsity football player on the DGS football team.
Outside of school McGrew enjoys hanging out with friends, cruising on his longboard, watching anime, and reading manga, which is Japanese comics. He also enjoys gaming and listening to hip-hop and rap music.
McGrew plans on going to college and double majoring in Japanese and education, Through adulthood, McGrew plans on learning how to play the guitar and traveling the world alone or with friends.
Drey McGrew, Sports Editor
Jan 19, 2021

Essential workers: High School students working through a pandemic

(Story)

Jan 05, 2021

Attack on Titan; Mappa doesn't disappoint

(Story)

Dec 03, 2020

Horoscopes; what time should you wake up?

(Story)

Nov 30, 2020

Winter Podcast

(Story/Media)

Nov 06, 2020

What fall treat are you?

(Story)

Oct 23, 2020

Senior Milia Saei reflects on final season with DGS tennis

(Story)

Oct 20, 2020

Top 10 Halloween decorations

(Story)

Oct 14, 2020

Hobbies over quarantine podcast

(Story/Media)

Oct 11, 2020

Fall 2020 Anime: What you should watch

(Story)

Sep 24, 2020

Contact sports in 2020: Selfishness over safety

(Story)

Apr 28, 2020

'Tower of God' — an anime review

(Story/Media)

Mar 03, 2020

Immigrating to Illinois: Sharing experiences

(Story)

Mar 03, 2020

Which Naruto character are you based off your horoscope

(Story/Media)

Feb 14, 2020

Students' overcommitment is harmful to their well-being

(Media)

Jan 31, 2020

Super Bowl LIV preview

(Story)

Dec 17, 2019

A tale of two teams: North and South combine gymnastics program

(Story/Media)

Dec 16, 2019

Why winter break should be longer

(Story)

Dec 05, 2019

Which anime character are you?

(Story/Media)

Nov 15, 2019

Friendship Friday: Joe Davison and Joey Straus

(Story/Media)

Oct 30, 2019

Why trick or treating is fun

(Story/Media)

Oct 21, 2019

Frozen treats arrive in cafeteria

(Story)

Oct 01, 2019

Boys soccer takes advantage of MFP-granted turf practice field

(Media)

Sep 26, 2019

'Rambo: Last Blood' will disappoint

(Story/Media)

Sep 25, 2019

Top 10 Tuesday: Anime series

(Story)

Sep 11, 2019

Popeyes' chicken sandwich: Love at first bite

(Story/Media)