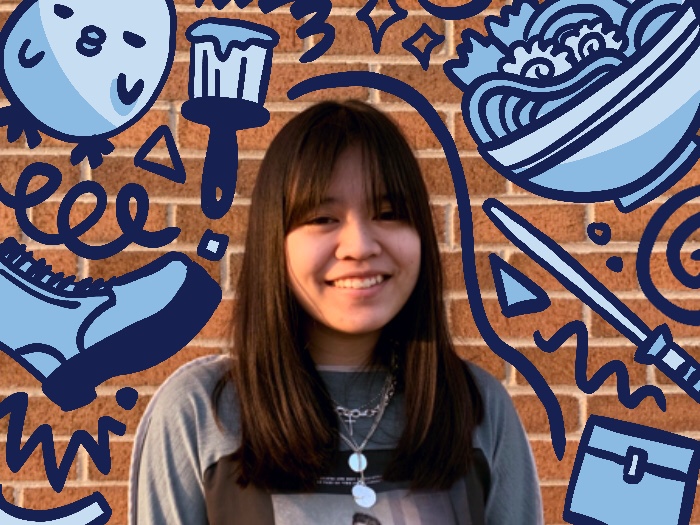 Alexis Pragides is a senior at DGS and the Graphics Director for the Blueprint. This is Pragides's first year on staff. She is currently the president of Cultures in Alliance and on the honor roll.
Pragides has been doing art since she was a kid. She has been taking AP Studio Art for the past two years. Additionally, she has won a Gold Key Award at the Scholastic Art Show for one of her pieces.
Pragides plans on studying graphic design in college. She intends to pursue a career in graphic design or illustration, and has an account on Instagram dedicated to posting her art: @eggrollecks.
Alexis Pragides, Graphics Director
Nov 18, 2020

Jim Mizener, beloved DGS sports announcer and teacher, passes away

(Media)

Nov 14, 2020

'ZZZ'oom meetings: Online learning and its effect on students' fatigue

(Story/Media)

Nov 10, 2020

Top 12 things women apologize for: How to take our power back

(Media)

Nov 06, 2020

Teaching and parenting worlds collide: How COVID has forced DGS teachers to manage multiple roles

(Media)

Oct 30, 2020

What Halloween costume should you wear this year?

(Story/Media)

Oct 30, 2020

COVID-19's effect on Halloween activities

(Story/Media)

Oct 23, 2020

A comprehensive guide to Black Lives Matter

(Media)

Oct 23, 2020

Better on paper than in practice: Modified hybrid plan falls short

(Media)

Oct 15, 2020

You're not alt if you don't support the BLM

(Media)

Oct 09, 2020

Which Among Us character are you really?

(Media)

Oct 06, 2020

Mentally over COVID: The struggles of mental health during a pandemic

(Media)

Sep 28, 2020

Virtual learning changes traditional quizzing methods

(Media)

Sep 17, 2020

How College Board will disappoint students with AP testing… again

(Media)

Sep 16, 2020

Falling asleep or staying 'woke?': Performative activism on Instagram

(Story/Media)

Sep 14, 2020

District 99 spent months planning remote learning; is this really the best we can do?

(Media)