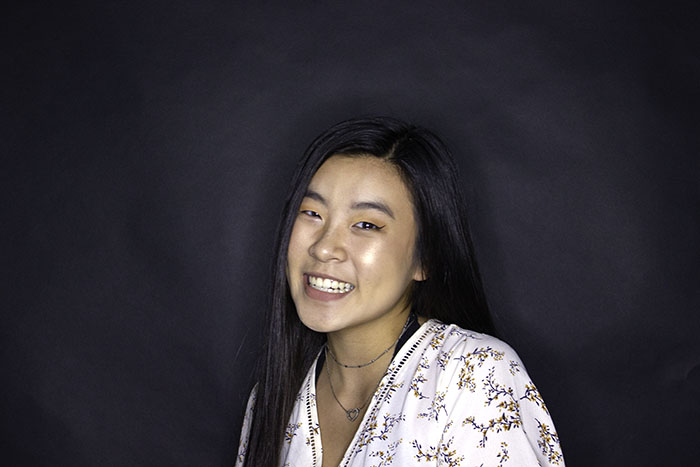 Ariel Oh is a senior at DGS and is an Opinions Editor for the Blueprint. This is Oh's third year on staff; she joined as a sophomore to develop her writing skills. Oh placed first in the 2019 Journalism Sectionals for video news and later went on to the state competition.
In addition to participating in the Blueprint, Oh also plays for the Downers Grove Outlaws softball team. Oh is involved with different activities such as being a Snowball leader, Superfans, ACE and a Blue Crew leader. She has also participated in the cheerleading and softball programs at DGS.
In her free time, she enjoys hanging out with her friends, doing outdoor activities as well as going to concerts and festivals. Her favorite TV show is
Grey's Anatomy
. She also likes to play with her two dogs, Mia, a labrador, and Trixie who is a husky mix.
Oh is looking to attend college in either Florida or the West Coast. Although she is not sure what she wants to major in, she is considering marine biology or journalism.
Ariel Oh, Opinions Editor
Oct 09, 2020

Which Among Us character are you really?

(Story)

Oct 08, 2020

DGS varsity dance team entertains with recorded performances

(Story)

Oct 01, 2020

Overcoming and adapting: Teachers go remote learning

(Story/Media)

Sep 10, 2020

This 'Reflection' isn't a good one: Everything wrong with 'Mulan'

(Story/Media)

May 14, 2020

COVID-19 brings challenges to student athletes: How athletes have been keeping up with staying fit

(Story)

May 12, 2020

Thanks and peace out

(Media)

May 04, 2020

TikTok turns toxic: App drives waves of insecurity among teens

(Story)

May 04, 2020

The positives we gained from COVID-19

(Story)

May 03, 2020

Dear Blueprint seniors, I'll miss you

(Story)

Mar 09, 2020

National Speech and Debate Association Tournament held at DGS

(Media)

Feb 26, 2020

Senf steps up to role as head boys track coach

(Story)

Feb 05, 2020

Racism runs deeper than just overt acts

(Story)

Jan 28, 2020

Student diversity is shown through the different languages at DGS

(Story)

Jan 10, 2020

Friendship Friday: Jenna Boone and Morgan Turner

(Story)

Dec 18, 2019

Louis Tomlinson: Where is he now?

(Story)

Dec 18, 2019

DGS wrestlers face an unnoticed opponent: Stigma

(Story/Media)

Nov 22, 2019

DGS still buzzed by Juul epidemic

(Story)

Nov 20, 2019

DGS cheer prepares for competitive season

(Story/Media)

Nov 08, 2019

Friendship Friday: Nina Pinto and Gianna Marsico

(Story)

Nov 05, 2019

'Dr. Jekyll and Mr. Hyde' thrills audiences Nov. 1 – 2

(Story)

Oct 21, 2019

DGS staff continues to misrepresent diversity of student body

(Story)

Oct 21, 2019

Slowikowski speaks at Red Ribbon Week assembly

(Media)

Oct 07, 2019

Facing the impact of an injury head on: Concussions

(Story)

Oct 04, 2019

MFP construction underway at DGS

(Story)

Oct 03, 2019

Medina makes his mark: Sophomore becomes first male flyer in DGS history

(Media)

Sep 29, 2019

Students attend homecoming assembly in superhero style

(Story)

May 09, 2019

Throwback Thursday: Shiann White

(Story)

Apr 30, 2019

Boys track changes routine to seek improvement

(Story)

Apr 25, 2019
Apr 12, 2019

Senf trots across the finish line as the winner of this year's 5K

(Story)

Mar 22, 2019

Best of both lives: How I accepted my identity

(Story/Media)

Mar 22, 2019
Mar 19, 2019

Show ponies: Mustangs dazzle at talent show

(Story)

Feb 27, 2019

School spirit assembly recap

(Story/Media)

Feb 19, 2019

Weekly Preview: Feb. 18 – Feb. 22

(Story/Media)

Jan 29, 2019

Guiding students to better decisions

(Story)

Jan 29, 2019
Jan 29, 2019

Bringing friendship into a performance: winter guard

(Story/Media)

Dec 18, 2018

Elevators leave students concerned: the functioning of DGS elevators

(Story/Media)

Dec 17, 2018

DGS boys' basketball wins against rivalry DGN through an optimistic comeback

(Story)

Nov 28, 2018

Horoscope 11/28

(Story/Media)

Nov 20, 2018

Blueprint Girl–Thanksgiving Special

(Story)

Nov 16, 2018

Fundamentals of fighting

(Story)

Nov 16, 2018
Nov 08, 2018

Throwback Thursday: Rah-Shon Murff

(Story)

Nov 06, 2018

Top Ten Tuesday: ways to procrastinate doing homework

(Story/Media)

Sep 25, 2018

Girls' cross country team strides towards success

(Story)

Sep 14, 2018

DGS paints a picture that lacks color

(Story)

Sep 11, 2018

An open letter to the freshman class

(Story/Media)