DGS boys' basketball wins against rivalry DGN through an optimistic comeback
More stories from Ariel Oh
On Sat. Dec. 15, the DGS boys' basketball team traveled to rival school DGN to compete in their annual crosstown classic. Although DGN led the game for the first three quarters, DGS made a final comeback in the last quarter and won 46-42.
This is the fourth year in a row of DGS beating DGN in boys' basketball with a 5-4 record.
DGS sophomore Nina Pinto gives her opinion on the game's energy.
"The game was so exciting, especially since we were losing the majority of the first half. Then we came back and won, and we were also doing fun cheers and we stormed the court," Pinto said.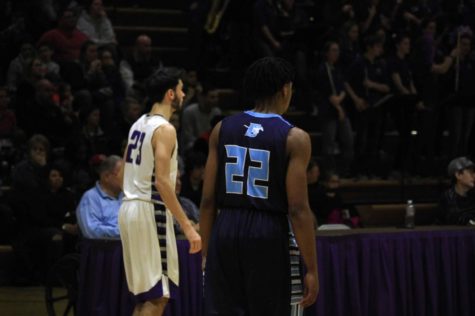 The DGS fan section was filled with jersey-wearing students while the DGN fan section had a Christmas sweater theme. By the end of the game, students surrounded each other and jumped around with joy. Basketball players also joined in while Principal Schwartz and security could be seen guarding certain students and helping them off of the floor.
DGN sophomore Gavin Crowson thinks that even though both schools showed team spirit, DGS showed it best.
"The atmosphere was good even though the South section was louder and more energetic. The players kept the crowd in it with a good game as well," Crowson said.
DGN led 14-4 up to the end of first quarter and was up 24-15 by the end of third quarter. However, DGS seniors Wesley Hooker and Justin Eagins together scored DGS's last 28 points of the game, allowing DGS to take the win.
The DGS boys' basketball team competes in their next game Wed. Dec. 26 in Highland Park at 7:30 p.m.
Leave a Comment