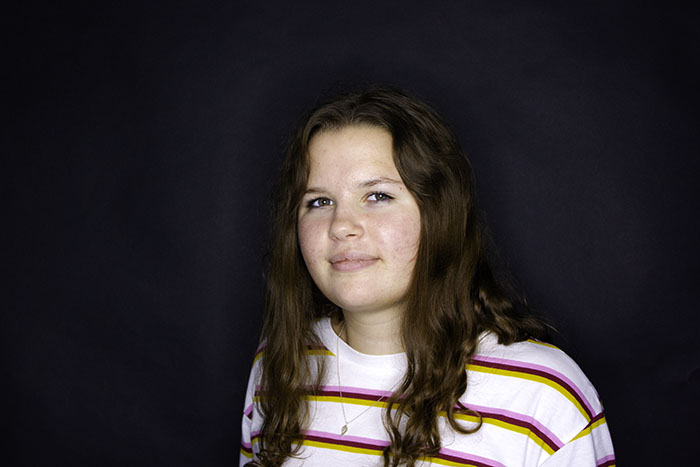 Marjorie Lichner is a senior at DGS and is the Head Copy Editor for the Blueprint. This is her first year on the Blueprint; however, she did freelance a few pieces for the paper last year. 
When Lichner isn't at school, she spends most of her time at work. As a Consumables team member at Target, Lichner often finds herself working with heavy objects and helping out other team members. Lichner has been working at Target for about a year now.
When Lichner isn't working or doing schoolwork, she can usually be found with her nose deep into a book or playing on her computer. Lichner also spends some of her time as a swim instructor, where she helps younger kids who aspire to be swimmers.
Lichner is still unsure of where she will be attending college next year. She is certain that she will want to major in elementary education to live out her lifelong dream of being a teacher.
Marjorie Lichner, Head Copy Editor
May 13, 2020

AP photography: What is expected from students

(Story)

Apr 28, 2020

Things I wish I knew before high school

(Story)

Apr 15, 2020

My one true love: Amazon Prime

(Story)

Apr 13, 2020

A look into how certain facilities are handling the COVID-19 pandemic

(Story/Media)

Mar 23, 2020

Coronavirus is slowing destroying my life

(Story)

Feb 12, 2020

Valentine's Day: Not worth the hype

(Story)

Feb 07, 2020

Friendship Friday: Jordan Bertrand and Skyler Groveau

(Story)

Feb 07, 2020

Spirit Week preview

(Story)

Dec 17, 2019

A look at the Winter Art Show

(Story/Media)

Dec 17, 2019

Mall santas — freaky or fun?

(Story)

Dec 13, 2019

Wacky finals schedule creates confusion

(Story)

Dec 11, 2019

Best candy canes based on your sign

(Story)

Dec 05, 2019

A mediocre day in the neighborhood: 'A Beautiful Day in the Neighborhood' review

(Media)

Nov 21, 2019

What I am thankful for: Beating cancer

(Story/Media)

Nov 14, 2019

Illness: What is so romantic about it?

(Story)

Nov 07, 2019

Snowball is not for everyone

(Story)

Nov 01, 2019

Introduction to Teaching program provides unique opportunities for students

(Story)

Oct 23, 2019

Zodiac signs' best costume choices

(Story/Media)

Oct 15, 2019

Top ten ways to use less plastic

(Media)

Oct 04, 2019

MFP construction underway at DGS

(Story)

Sep 30, 2019

School is supposed to be safe — is it really though?

(Story/Media)

Sep 18, 2019

Horrorscopes: 9/18

(Story)

Sep 12, 2019

Thoughtless football themes

(Story)

Oct 24, 2018

New swimming blocks installed by pool

(Story/Media)