Things I wish I knew before high school
More stories from Marjorie Lichner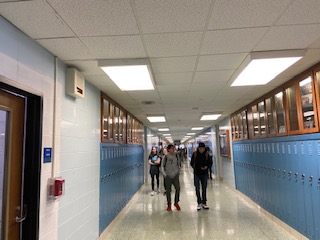 With my senior year ending in shambles, I have had a lot of time to reflect on my time in high school. Looking back, there is a lot I wish I knew before entering DGS.
Perhaps one of my biggest concerns when entering high school was the fear of bullying. I was scared that I was going to be a target for upperclassmen, and I thought that pretty much all of my freshman year.
In reality, upperclassmen couldn't care less about the freshman unless they are clogging up the hallways. In most cases, upperclassmen wouldn't even talk to a freshman unless they shared a class. Probably the most bullying I ever received my freshman year was the "go home freshman" chant whenever we had a pep assembly.
One thing that I believed before high school was that it was going to be like a Disney movie. Believe it or not, high school is nowhere near movies like "Lemonade Mouth" or "High School Musical."
Instead, I think it is pretty much the same as middle school, but on a larger scale. There are more clubs to join, more friends to make and more classes to take.
A misconception I had before high school was that I had to join a club to make friends. In middle school, all anyone ever talked about was how we needed to join a club. They told me that everyone does clubs, and made me feel like I would be an outsider if I wasn't in any.
Take it from me, you do not need to join any club if you don't want to. Personally, none of the clubs at DGS were for me, and the friends that I have now are ones I still see in my life after high school. You can still make forever friends even if you decide not to join a club or sport.
A small misconception I had before high school was that I was going to rely on my locker. Though this can differ from person to person, I haven't touched my locker since the day I got it freshman year.
Personally, every big textbook I have is online, and I only need a few notebooks and pencils to get through the school day. I never really wore a heavy jacket when it was cold, so I always wore my jacket throughout the school day. That left nothing to keep in my locker.
Even though high school isn't anything like I thought it would be, I still made tons of memories and friends. I will never forget the fun I had in high school, and I can't wait for the next chapter of my life.
Leave a Comment