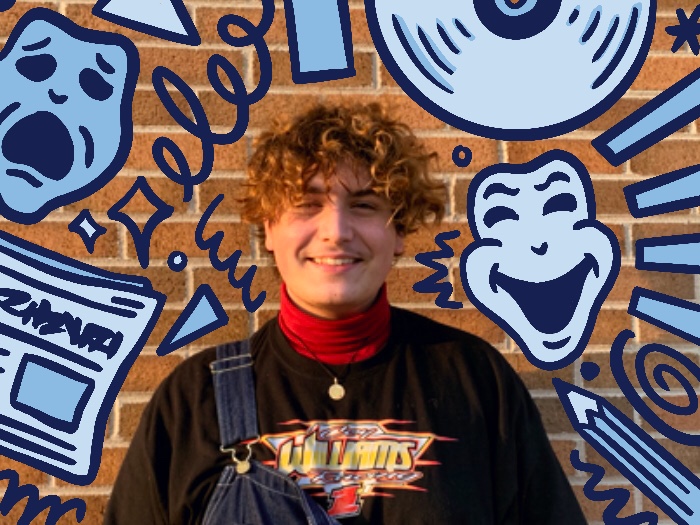 Kassem Ossman is a junior at DGS. This is Ossman's first year on the Blueprint staff as an Entertainment Editor. When he's not writing, he's a competitor for the DGS speech team, an actor for the Masque and Gavel club and a part of the DGS choir.
In the little bit of free-time Ossman has, he enjoys spending time with his family, broadening his musical taste, playing different instruments and using different types of fashion to express himself. He is carefree and is open to trying new hobbies, foods or music to live life to the fullest.
After Ossman graduates, he wants to move to Canada and major in journalism, though he isn't too sure what colleges he would like to attend yet. This year, he's ready to bring some spunk to the Blueprint!
Kassem Ossman, Entertainment Editor
Jan 11, 2021

First semester in review

(Media)

Jan 11, 2021

Aesthetics 101

(Story/Media)

Nov 29, 2020

Free lunches during COVID-19

(Story/Media)

Nov 24, 2020

Being a part of the LGBTQ+ community in the suburbs

(Story/Media)

Nov 24, 2020

Why it's important to ask for pronouns

(Story/Media)

Nov 13, 2020

Upcoming food drive

(Story/Media)

Nov 11, 2020

What "Rocky Horror Picture Show" character are you?

(Story/Media)

Nov 09, 2020

Top 10 things to do with your friends when the weather gets chilly

(Media)

Nov 04, 2020

Mask Fashion

(Story/Media)

Nov 03, 2020

District 99 takes pause on in-person learning

(Story/Media)

Oct 29, 2020

Sexy Costumes, are they an issue?

(Story/Media)

Oct 28, 2020

Halloween movies to get you feeling nostalgic

(Story/Media)

Oct 24, 2020

What taco bell hot sauce are you?

(Story/Media)

Oct 23, 2020

A comprehensive guide to Black Lives Matter

(Story)

Oct 21, 2020

Am I secretly falling in love with Basic Girl Autumn?

(Story)

Oct 16, 2020

Creating your indie playlist

(Story/Media)

Oct 15, 2020

You're not alt if you don't support the BLM

(Story)

Oct 09, 2020

Which Among Us character are you really?

(Story)

Oct 01, 2020

Imagine homecoming dress-up days

(Story/Media)

Sep 16, 2020

District 99 Board of Education shares new guidelines that will shape future hybrid learning plans

(Story/Media)

May 11, 2020

The positive project: A documentary

(Media)

Nov 22, 2019

Espinosa takes the win at age five

(Story/Media)