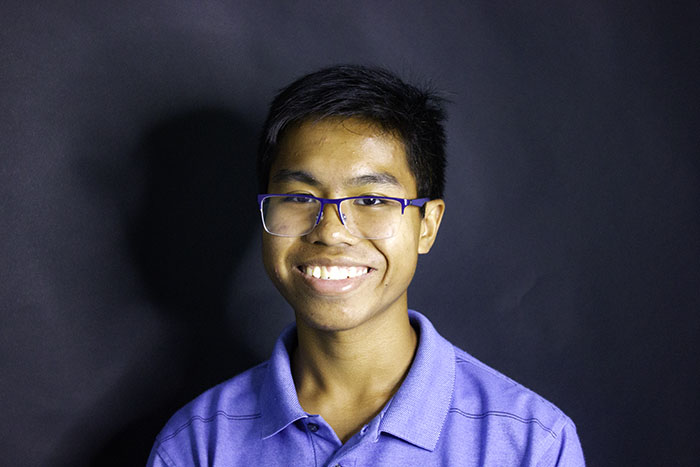 Vincent Llanes is a senior at DGS and is in his first year with the Blueprint where he is the Business Manager and Copy Editor. He has been a member of both the track & field and cross country teams since his sophomore year and currently competes at the varsity level with the intent of heading to the state tournament this year. Llanes is also a varsity member of the speech team and an English tutor.
Llanes is interested in attending Purdue University, Iowa State University or the University of Illinois at Urbana-Champaign. He would like to major in mechanical or civil engineering. In his free time, Llanes loves biking and playing video games and is also an avid fan of television, being especially fond of "Breaking Bad", "Stranger Things" and "Better Call Saul".
Llanes also loves spending time with his family, especially with his two younger sisters, Chloe and Elisha. They like to visit water parks, fairs and different states during the summer. Ultimately, his favorite family activity is going for long walks in the park.
Vincent Llanes, Copy Editor
May 15, 2020

May 12 Downers Grove village council meeting recap

(Story/Media)

May 15, 2020

Long form: a look at the graduating class of 2020

(Story/Media)

May 08, 2020

Living a life under COVID-19

(Story/Media)

Apr 23, 2020

Dealing with in-home distractions

(Story/Media)

Mar 09, 2020

National Speech and Debate Association Tournament held at DGS

(Media)

Feb 20, 2020

'The Mandalorian' Review: A great addition to the Star Wars industry

(Story)

Feb 20, 2020

What type of soda are you based on your horoscope?

(Story)

Feb 18, 2020

Student 'horror stories' help teachers learn how to react in high-stake situations

(Story/Media)

Feb 12, 2020

Food: A tasty talk about culture

(Story)

Dec 20, 2019

Presenting the worst presents

(Story/Media)

Dec 18, 2019

DGS displays differences in final exams

(Media)

Dec 06, 2019

Time to pick up a book

(Story/Media)

Dec 04, 2019

Find out what your favorite holiday treats are based on your horoscope

(Story)

Dec 04, 2019

The chilly truth about 'Frozen 2'

(Story/Media)

Nov 15, 2019

Video games help teenagers through tough times

(Story/Media)

Oct 23, 2019

A conference about conferences

(Story/Media)

Oct 18, 2019

Find out what Halloween monster you are today!

(Story)

Oct 02, 2019

Oct. 1 Downers Grove village council meeting re-cap

(Story)

Oct 02, 2019

Insecure about security: New personnel and procedures

(Story)

Sep 17, 2019

About the 2019 superhero homecoming assembly

(Story/Media)

Sep 06, 2019

Friendship Friday: Fastest friends

(Story/Media)