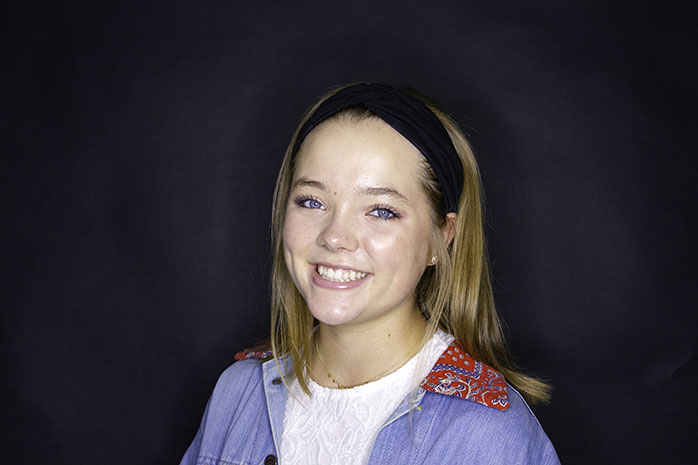 Tatum Mitchell the Print Editor-in-Chief and a second-year staff member. Mitchell competed on the sectional/state journalism team in 2019 for news writing. She qualified for state, taking home third at sectionals. 
Mitchell is involved in theater, music and she also rides horses competitively. She has participated in choir since freshman year and has been in multiple DGS productions. Mitchell is involved in a variety of clubs at DGS including JKB/LOAM (an athletic leadership club), Spanish Club and Masque & Gavel. 
For the Illinois Journalism Education Association, Mitchell received first place and an honorable mention in front page design, first for best in-depth news story, second for best news story and an honorable mention for best centerspread story package. 
Mitchell would like to attend a four-year university to major in journalism or business. In her free time, she enjoys listening to many different musical artists but with favorites including  Arctic Monkeys, Bad Suns, The Rolling Stones and Ariana Grande.
Tatum Mitchell, Print Co-Editor-in-Chief
Apr 21, 2020

State mandate suspends in-person learning for the year, remote learning to continue

(Story)

Feb 26, 2020

Multiple DGS student athletes commit to college teams

(Story)

Feb 25, 2020

Students attend board meeting in support of band director

(Story/Media)

Feb 12, 2020

What your Valentine's Day will be like based on your sign

(Story/Media)

Jan 27, 2020

Changing the narrative: 'Little Women' earns an A

(Story/Media)

Dec 02, 2019

The reboot of 'Charlie's Angels' is a kicking step forward for female empowerment

(Story)

Nov 05, 2019

Marching Mustangs make history

(Story/Media)

Oct 08, 2019

Village of Downers Grove expects to not legalize cannabis product sales

(Story/Media)

Oct 04, 2019

DGS creates new early bird PE course geared toward varsity athletes

(Story)

Sep 04, 2019

What album should you listen to based on your sign?

(Story)

Apr 23, 2019

Discover your spirit animal with Sarah & Tatum

(Story)

Apr 11, 2019

Discover your style icon with Sarah & Tatum

(Story)

Mar 22, 2019
Mar 15, 2019

The DGS speech team: A legacy and a tradition

(Story)

Feb 25, 2019

Hey, what's up with this YouTube trend?

(Story/Media)

Feb 23, 2019

Freshman Friday: Hailey Welp

(Story)

Feb 15, 2019

Flexible Learning Day scheduled for this President's Day weekend

(Story/Media)

Feb 14, 2019
Feb 05, 2019

Top ten ways to spend Valentine's Day when you're single

(Story)

Jan 25, 2019

Marty, I think it's time we had the talk

(Story)

Jan 25, 2019
Jan 25, 2019

Tracking denies all students an equal opportunity to succeed.

(Story)

Jan 14, 2019

What type of coffee/tea are you?

(Story/Media)

Dec 21, 2018

Multicultural Studies now considered a civics credit

(Story)

Dec 14, 2018

DGS was only the beginning to Maudlyne Ihejirika's success

(Story)

Dec 13, 2018

Video News: Dec. 14, 2018

(Story)

Dec 11, 2018

Top ten Christmas songs

(Story/Media)

Dec 05, 2018

New unexcused absence policy for DGS

(Story/Media)

Dec 03, 2018

DGN alumni group advocates for changes in District 99

(Story)

Nov 16, 2018
Nov 02, 2018

Freshman Friday: Kylie Thiel

(Story/Media)

Nov 01, 2018

Halloween is sexist: how costume manufacturers hypersexualize women and hyper-masculinize men

(Story)

Oct 18, 2018

D99 students get day and a half off for parent-teacher conferences

(Story/Media)

Oct 04, 2018
Oct 04, 2018

Five distinguished alumni inducted into hall of fame

(Story/Media)

Sep 26, 2018

D99 School Board discusses master facility plans and more

(Story)

Sep 18, 2018

Top Ten: Places to go after Homecoming

(Story/Media)