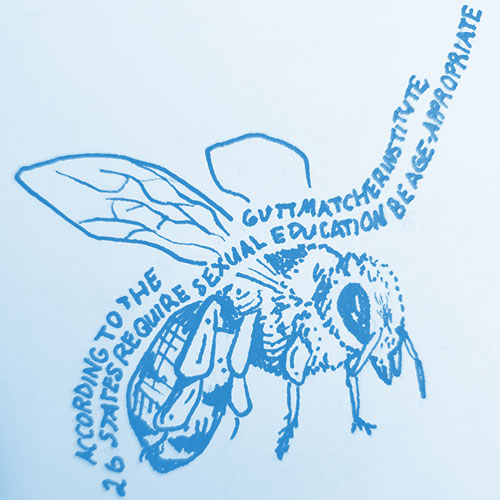 Graphic by Emmanuelle Copeland
Learning the ABCs of LGBTQ
PBS.org research director of UCLA and LGBTQ population demography expert Gary Gates estimated that there are 9 million members of the LGBTQ community in America today.
Despite this large number, according to the Human Rights Campaign, the largest advocacy group for the LGBTQ community in the U.S., there is a nationwide lack of sex education for the community.
"Whether legally barred or simply ignored, LGBTQ-inclusive sex education is not available for most youth. The GLSEN 2013 National School Climate Survey found that fewer than 5 percent of LGBTQ students had health classes that included positive representations of LGBTQ-related topics," the Human Rights Campaign website said.
Junior Catherine Kammerer stated that when she took health class, she noticed a lack of representation regarding the LGBTQ youth.
"I feel like there needs to be recognition that LGBTQ people exist. By teaching 'traditional' sex-ed, you are completely ignoring people that
attend DGS. I felt from my own experience in health, as well as from some friends that the main purpose of our sex education was solely focused on how not to get pregnant or an STD," Kammerer said.
Senior Grace Curry described her experience with the health curriculum at DGS.
"Gay sex happens. Teenagers are gay. They deserve proper safe sex education too . … I would like to see things like teaching students about how experimentation and questioning your sexuality and/or gender is okay," Curry said.
Although health classes only last one semester, DGS health teacher Colleen Reagan said that it is an inclusive curriculum.
"I feel like there is something that someone wants or something someone doesn't want or things that certain people think are appropriate or not appropriate. There's definitely opinions on that …[But] I think it's an inclusive curriculum. … We're very conscientious about that," Reagan said.
"
LGBTQ-inclusive sex education is not available for most youth."
Though many expressed a lack of representation in health classes, DGS math teacher and leader of PRISM Andrew Kaim described what PRISM does for the LGBTQ community at DGS.
"I think PRISM is a social gathering place for students that are questioning. They could have identified as transgender, gay, lesbian, bi, or they could be straight. … They're supporting their friends … It's more of a social networking thing for those students, where they don't feel isolated on the fringe of the community," Kaim said.
Another aspect of sex education and general health education that seems to be lacking in school is the inclusiveness of intersectionality and minority health risks.
"It's important to see and hear about issues that affect people like you," Curry said.