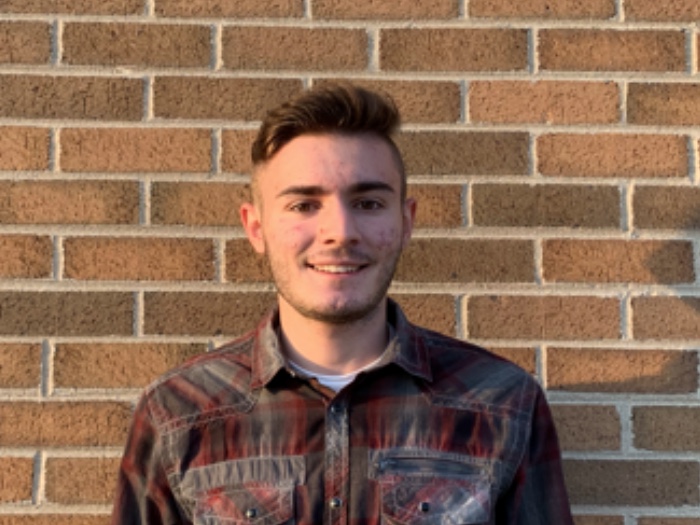 Greyson Martinescu is a Senior at DGS and a News Editor in his second year on the Blueprint. At DGS Martinescu has played on the football team and has participated in Operation Snowball twice. Since his freshman year, he has run sprints for the track and field team.
Martinescu attended the 2019 SkillsUSA competition for 3D design and animation in Springfield, Ill. At the competition, Martinescu and his partner worked on a prolonged project to earn sixth place in the high school division.
During summer break, Martinescu travels to Romania because his whole family was born and raised there. He spends time with them swimming in the Black Sea, relaxing on the beach, and driving the twisting roads around the Carpathian Mountains. 2019 has marked the sixth time he has been to Romania.
Martinescu is still deciding on colleges and hopes to study in an aviation-related field.
Greyson Martinescu, News Editor
Oct 09, 2020

Top 8 TV shows over quarantine

(Story/Media)

Sep 30, 2020

Hybrid learning provides the best pratical option

(Story)

May 17, 2020

Construction progress at DGS

(Story)

Apr 22, 2020

How Bernie came up short again

(Story/Media)

Mar 31, 2020

The top four industries that are succeeding because of Covid-19

(Story)

Mar 23, 2020

SAT and ACT cancelled; AP Exams online amid COVID-19 outbreak

(Media)

Mar 11, 2020

A preview of the upcoming Masque and Gavel Talent Show

(Story)

Feb 13, 2020

Netflix's 'Killer Inside' delves into the complexities of being a professional athlete

(Story)

Jan 28, 2020

Student diversity is shown through the different languages at DGS

(Story)

Jan 23, 2020

Varsity basketball takes on Willowbrook

(Story)

Jan 21, 2020

Tesla Cybertruck: Much more than your average pickup

(Story)

Jan 16, 2020

How much do you know about Illinois?

(Story)

Dec 18, 2019

Student petition for school Wi-Fi doesn't connect

(Story)

Dec 18, 2019

Music at DGS

(Story/Media)

Nov 14, 2019

What's your soda brand?

(Story)

Oct 21, 2019

A look into the top school distraction — Smartphones

(Story/Media)

Oct 10, 2019

Kickstarts are the perfect start to every teen's day

(Story)

Oct 04, 2019

MFP construction underway at DGS

(Story)

Sep 20, 2019

Eight reasons why I dislike '13 Reasons Why' season three

(Story/Media)