Super LV preview
More stories from Greyson Martinescu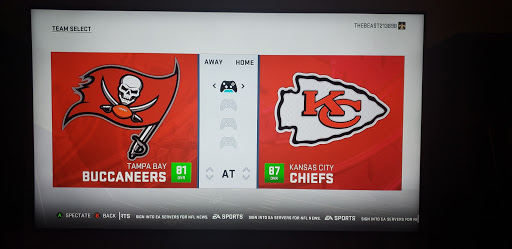 To all those who may watch the NFL, the final showdown between the league's best teams is coming this Sunday. Now comes the time to take a look at how these two teams ended up here. The Kansas City Chiefs and the Tampa Bay Buccaneers have players who are no strangers to being on the Super Bowl field.
The Tampa Bay Buccaneers (11-5) are the NFC champions for the second time since the 2002-2003 season.
After missing out on the playoffs for the past 13 seasons, the Buccaneers have finally found a spark this season by managing to recruit many veteran players in the offseason who have playoff experience.
After finishing 7-9 last year, the Buccaneers acquired veteran quarterback Tom Brady and Rob Gronkowski who were previously teammates during the New England Patriots dynasty. After adding these two weapons to their arsenal, along with other experienced defensive players, were key to building a Super Bowl calibrated team.
Looking towards Kansas City, the Chiefs(14-2) are the AFC champions and reigning Super Bowl champions
After being in playoff contention for the past few years, the Chiefs finally broke their Super Bowl drought last year. With a fiery offense led by Patrick Mahomes, Travis Kelce, and Tyreek Hill, preparing defensively for them has been more of a challenge than other teams. Along with that, replacing their defensive coordinator and resolving their past defensive issues which cost them the AFC Championship has come a long way.
When the two teams faced off during the regular season, the Chiefs came out on top with a landslide victory. After finishing the regular season with the best record in the league, there is no doubt that the Chiefs are the team to beat.
Tampa Bay will be making history on Super Bowl LV, being the first team to ever have home-field advantage. However, due to COVID-19, their anticipated home field advantage won't be as helpful due to occupancy restrictions. Will the Buccaneers having home-field-advantage help them under the stakes of the Super Bowl, or will the Chiefs make ease of the Buccaneers just as they did in the regular season.
Find out Sunday, Feb. 7 at 5:30 p.m CST on CBS/NFL Network