The World Cup is finally back
It's finally that time. After four years of waiting, soccer has returned. Since the 1930s, the World Cup has always been highly anticipated for sports entertainment. With over 3.5 billion soccer fans, the World Cup is an event that the world looks forward to.
The world cup originated with the International Federation of Association Football (FIFA, the soccer government body where president Jules Rimet put the idea into place. The World Cup is a quadrennial tournament of 32 national teams organized by FIFA. Ever since, the World Cup has been highly anticipated and loved by billions of people.
The world cup isn't just about competing and seeing who ends up as the victor; most people love the World Cup because of the raw emotion and how it can bring people together. Two Varsity soccer players at Downers Grove South talked about their experience with the world cup and how it's such a memorable moment.
Senior Karol Niziolek is one of the varsity soccer players at DGS. He plays center mid and plans on playing at a college level over at Ripon College.
"The world cup brings me back to my childhood, and it's a stage where you watch your idols represent their countries, and you dream about representing yours someday, and it's just something that unites every player, and everyone comes together to support this once every four-year event," Niziolek said.
Senior Victor Carrasco is a varsity soccer player at DGS. He plays as Left Back and is still deciding whether or not he wants to play at a college level.
"The world cup means a lot to not only me, but I think many soccer fans and even those who aren't fans. It's an event that brings everyone together, brings every emotion out of a person, and instills this pride in your home nation that just can't be beaten. So it's difficult to pick a favorite part about it but seeing your nation succeed might be up there," Carrasco said.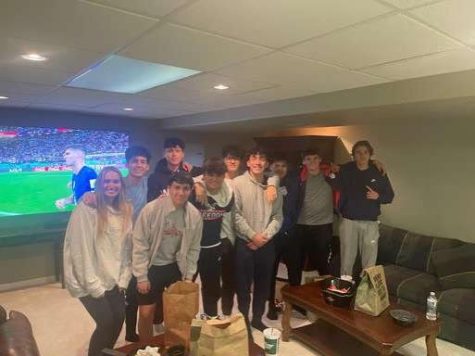 What makes the world cup unique is that it's for everyone to enjoy; all people of all different ages and backgrounds adore the world cup. My uncle Nasar Kurdi used to play soccer at Downers Grove south during the early 1970s, being the first team to bring back a trophy.
"The world cups mean the world to me. I love it. It's something I look forward to every four years. I picked a few teams. I usually pick the underdogs and cheer for them throughout the tournament, probably the most exciting time," said Kurdi.
Varsity soccer coach, along with former DGS goalie and social studies teacher Mike Paczkowski, talked about his experience with the world cup and how much of a positive impact it has had on him. He also expressed how he loved seeing all the different countries express themselves.
"I think the world is a great way for everyone to come together. I think it's just a cool experience for countries to come together, the pride of your country, just being able to cheer for something greater than yourself," Paczkowski said.
As of Dec. 9 with the quarter-finals Croatia beat Brazil four-two, Argentina beat the Netherlands four-three, Morocco beat Portugal one-zero and France beat England two-one.