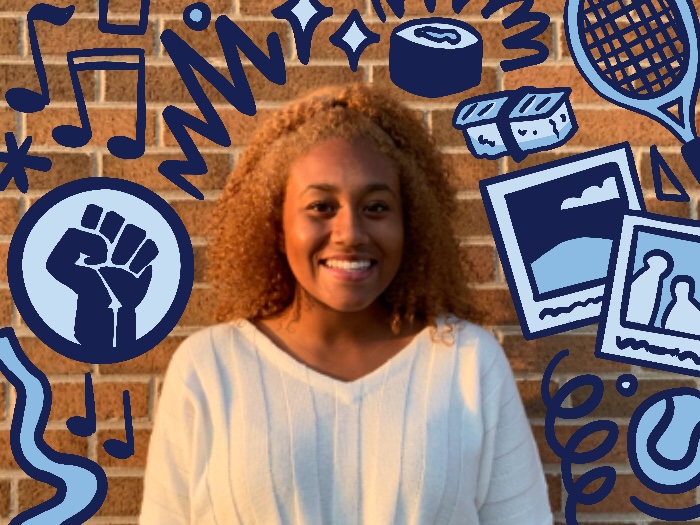 Mimi Akintunde-Nieves is a senior at DGS and the Social Media Director for the Blueprint. Akintunde is the captain on her varsity tennis team. She is the Vice-president of National Honors Society, a PE and Peer leader, leader for Operation Snowball and Mad Dash director.
Akintunde volunteers with Chicago Cares and advocates for the Black Lives Matter movement. As of 2020, Mimi was appointed into the National Honor Society of Torch and Laurel, an honors program developed by National Society of Collegiate Scholars (NSCS) that recognizes high achievers in high school. They provide them motivation, inspiration and vital tools on creating an ideal future for themselves.
In the future Akintunde is looking to attend school on the west coast and study psychology and communications. She hopes to have a career that allows her to focus on her passion: free mental health care.
In her free time, Akintunde enjoys hanging out with her friends and family. She loves to work with her dad on his art projects around the city of Chicago. Her favorite show is "The Bachelor" and she loves going on sushi dates with her friends.
Mimi Akintunde-Nieves, Social Media Director
Jan 10, 2021

Trump is in all of us: Americans' egos getting the best of us

(Story)

Nov 30, 2020

Black Friday shopping with Mimi, during a pandemic

(Story)

Nov 19, 2020

What does good mental health look like?: How to best support yourself

(Story)

Nov 10, 2020

Top 12 things women apologize for: How to take our power back

(Story)

Nov 06, 2020

Teaching and parenting worlds collide: How COVID has forced DGS teachers to manage multiple roles

(Story)

Nov 04, 2020

Traffic jam at DGS: Parking lot getting a little too hectic with new hybrid schedule

(Story)

Oct 28, 2020

What Disney Halloween movie are you?

(Story)

Oct 23, 2020

A comprehensive guide to Black Lives Matter

(Story)

Oct 08, 2020

Sports vs. COVID: Sports are looking a little different this year

(Story/Media)

Oct 06, 2020

Mentally over COVID: The struggles of mental health during a pandemic

(Story)

Sep 24, 2020

Our own 'Truman Show' through the eyes of tech

(Story)