Alexi Newsome draws the plans for her future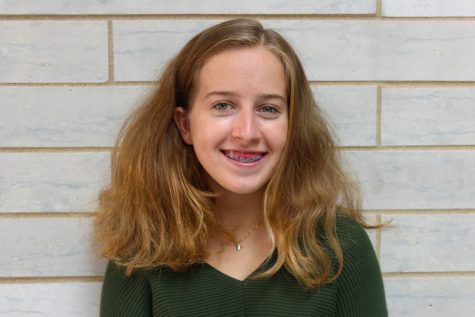 More stories from Emma Fudacz
High school is a time when students choose how they want to spend the rest of their lives and the career routes they want to take. Some are very conflicted about this decision, but freshman Alexi Newsome has been passionate about art for a long time, and already knows that she wants to make a career out of her skills and creativity.
"I've been doing [art] since I was like three, so like 12 years," Newsome said.
As a freshman, Newsome is currently taking a drawing and painting class at school, but has had lots of experience taking art classes prior to coming to DGS. In middle school, Newsome took an art class in downtown Chicago with other students studying at the Chicago Academy for the Arts.
"I took [an art class] at the Chicago Academy for the Arts, which was really fun," Newsome said.
Newsome plans to take art for all four years of high school, and pursue it as a professional career after graduation. She prefers creating art with mediums such as oil painting and pencil to graphic design, so Newsome hopes to make a future out of creating art and selling it to others, as opposed to going the route of graphic design or animation.
"If I could make it a career, I would like to just paint and draw things for people, and have my own landscapes that I paint, and sell those," Newsome said.
Newsome's drawing and painting teacher Laura Murphy describes one of Newsome's projects so far this semester.
"We did a still life project, so they got to choose their own object and then draw it with pencil. Lexi's still life is actually at the DGS Library show right now. We had to put only five pieces in the show, and hers was exceptional, so she and four other students that I thought went above and beyond are hanging in the show," Murphy said.
Murphy also commented on Newsome's dream to create art for a living, and encouraged her to work hard towards her goal.
"I think that she definitely should do that; I think that there are a lot of avenues for pursuing art as a career, especially now. Creative fields are the highest in demand, so there's a lot of different ways to go down that route. My suggestion to her was to take as many different kinds of art as she could, and that would open a lot of doors for her," Murphy said.
To see some of Newsome's art, check out the student exhibition in the Downers Grove Library through Nov. 30.
Leave a Comment