DGS girls cross country dashes towards state title, nationals bid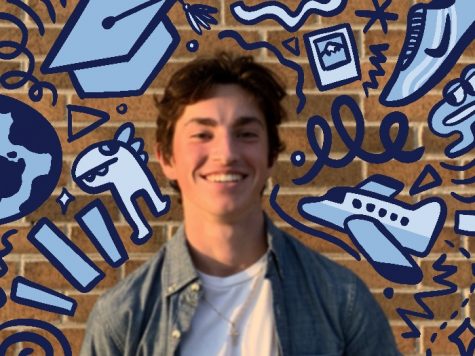 More stories from Luc Alvarez
The DGS girls cross country team came into the 2019 season with lofty expectations, and the girls believe they have a group that can reach those goals.
After heading into the season ranked 2nd in the state and 10th in the country, they began the season undefeated, winning both the Fenton and Richard Spring Invitationals, but in the eyes of Coach Doug Plunkett, the girls are just getting started.
"We want to win state and qualify for nationals and just want to run as good as we possibly can," Plunkett said.
The girls team came into this season especially driven. After a third-place finish at the Nike Cross Country Regionals (NXR) last fall, they failed to secure an automatic bid to nationals (NXN). Plunkett talked about how that setback has created a huge drive for the team this year.
"I think [missing out on nationals] motivates them to work harder and try to not put that decision in somebody else's hands, but to do what it takes to secure their own destiny," Plunkett said.
Not receiving the opportunity to race at NXN has pushed the girls team in more ways than one. In addition to adding new invites to their schedule like the Richard Spring Invitational in Peoria and the Nike Desert Twilight Festival in Casa Grande, Ariz., the team has ramped up their training to secure a spot at nationals. Varsity runner Erin Reidy explained how this season's training has differed from last season's.
"Our training has bumped up a lot this year. We've increased mileage and volume so workouts have been longer, harder, and faster. We've also just been trying to keep up with our nutrition and our sleep," Reidy said.
Of course winning isn't the only focus for the girls team. While only seven runners can score in a cross country meet, the team tries to create a close-knit and positive dynamic, something that Reidy says has been invigorated by the energy of the freshman class.
"The freshmen have definitely adapted to the team culture. They're bringing in TikToks and crazy music videos, and even at pasta parties we're all screaming and yelling. That's what we want, is for them to feel welcomed and express themselves," Reidy said.
One of those freshmen is Nora Joy who has already bought into the team culture. Joy talked about how the coaches have affected her drive to improve.
"I think just how committed [the coaches] are [to the team] and how committed they are to this sport, it really energizes us and helps us to want to be better," Joy said.
While a conference title may be a near-given for a team that's won 20 in a row, their other goals are not. For that they'll need to rely on the same hard work and dedication that has brought them to this point, starting on Sept. 27 in Arizona.