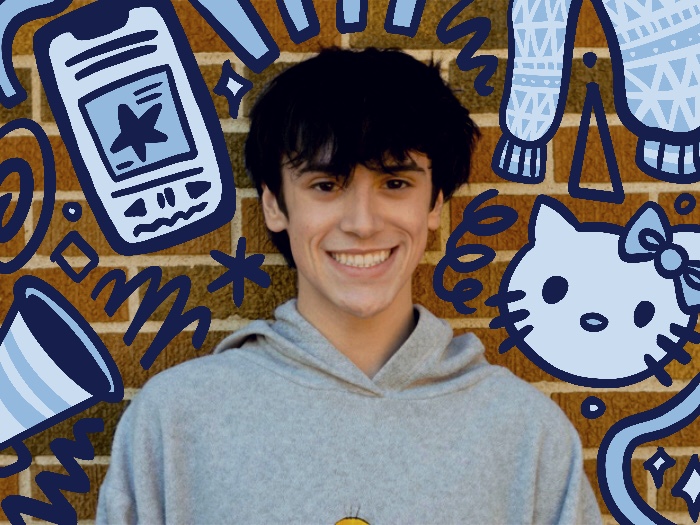 Enzo Rovito is a senior at DGS and the Graphic Designer for the Blueprint. He has participated in cheerleading at both the high school and all-star level. He currently pursues his love for cheerleading at ICE All-stars, a highly competitive cheer gym located in Naperville, Ill.
Along with cheerleading, Rovito has led the Snowball program at DGS. He has had an interest in journalism since a young age; it developed because of his love for editorial magazines such as Vogue. His interest in graphic design was a recent discovery that started from editing pictures of his friends that he posts on an Instagram page called @file.moveit0rloseit.jpeg.
Rovito has been cheering for the past three years and the past year at the all-star level. He's on two teams (Halo and Blackout), spends most of his free time at the gym and loves every second of it.
Along with his love for visual arts, Rovito also has a passion for musical arts. Music has played such an impactful role in his life. He loves concert culture and the atmosphere of being in a concert haul surrounded by people that all have the same interest as him.
Some of his favorite artists include Fleetwood Mac, Grimes, SZA, 100 Gecs and Ayesha Erotica.
In the future, Rovito plans on studying education with the hopes of being an art teacher. He also hopes to continue his love for cheerleading by becoming a coach for wherever school he teaches at.
Enzo Rovito, Graphic Designer
Nov 19, 2020

What does good mental health look like?: How to best support yourself

(Media)

Nov 13, 2020

Hyperpop; The sound of the future

(Story)

Nov 07, 2020

2020 Election results: Joe Biden wins the presidency

(Story/Media)

Oct 23, 2020

A comprehensive guide to Black Lives Matter

(Story/Media)

Sep 18, 2020

Glorifying weight loss isn't cute, it's toxic: Changing the way we let the internet affect our body image

(Media)

Sep 11, 2020

'Hit Different' hits different: SZA's new single pleases fans

(Story/Media)