Hyperpop; The sound of the future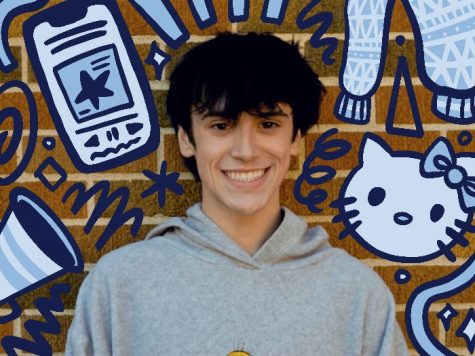 More stories from Enzo Rovito
What is Hyperpop — a genre of music? An aesthetic? Over the past couple of months this new sound has flooded the headphones of millions of teens around the world.
Technically Hyperpop is a subgenre of pop music characterized by the obnoxious amount of electrical and computer elements that has inched its way into the art and fashion world. When I streamed my first Hyperpop song, "Mine" by Slayyyter, I instantly fell in love. The random bubble and car sound effects scratched an irresistible itch in my brain.
The base of a hit Hyperpop song should include intensely edited and high pitched vocals over techno beats. With a focus on femininity, the girlie melodies are achieved by warping the bass and rhythm as well as upbeat and bubbly synths. The first listen this might seem like a lot for someone's brain to process and for some it definitely is.
But for the Hyperpop community the uniqueness that comes with every second of their favorite tracks is what makes the genre so easy to fall in love with.
Hyperpop is comparable to the wave of EDM music that hit America in the early 2000s. EDM and Hyperpop have striking similarities such as production quality, culture and stigma. People that enjoy Hyperpop music are often ostracized because it's an experimental genre that hasn't been made mainstream.
Hyperpop is nothing new though, it's been around since 2013. Labels such as PC Music have undoubtedly been at the forefront of the Hyperpop wave since it's debut. Providing an invaluable platform for this new sound to develop, PC Music has created a unique roster in the music industry with artists like Charli XCX, Bladee and Clairo.
Hyperpop extends beyond music as a developing aesthetic that holds its own in uniqueness and style. Visually Hyperpop art is a combination of diverse styles and themes such as "Baddie" or "Y2K." The crowded artwork is a direct reflection of the crowded track that lays behind the cover art.
In the fashion industry Hyperpop is comparable to the trendiness of Y2K. With wild pieces and even wilder make-up, this booming style is covered in sparkles and divine femininity. Staples in the Hyperpop wardrobe consists of colored hair, long vibrant nails, and typically second hand pieces acquired from the nearest thrift store.
Music has always been a reflection of current societal divides and with the rise of PC Music, we can assume that this speaks on what we currently value as a society. Hyperpop is embroidered into the internet which explains the rooted connection that today's teens have with the up and coming genre.
The success of the genre is partially due to the global health crisis. With young undiscovered creatives at home with more free time than ever, artists such as P4rkr have gotten busy in the studio and produced hit tracks. The spark of Hyperpops success is also due to the abundance of Tiktok audios/trends being direct derivatives of Hyperpop sound bites.
Artists like Ayesha Erotica have entered a "better late than never" form of stardom. Ayesha Nicole Smith was an underground artist whose muse was comparable to former Y2k stars like Britney Spears or Paris Hilton. Due to being doxxed (the action of having confidential information leaked to the internet) she fled the internet and has been silent since 2016.
However with the growth of Tiktok Ayesha Erotica has reclaimed her fame and many of her hit singles such as Literal Legend resurfaced due to the contagious Hyperpop elements.
Others on the internet have noticed the genre's distinct queerness as a factor in it's popularity. It's androgyny serves as comfort for transgender and gender non-conforming artists. This platform for expression allows an escape from heteronormativity. In the world of Hyperpop, the image and sound is completely unconstructed and eases the dysphoria for young queer teens.
Despite the rookie ranking of Hyperpop, it's certainly growing in popularity. Whether it's another one of many passing trends or a distinguished moment in pop history, only time will tell.
Leave a Comment