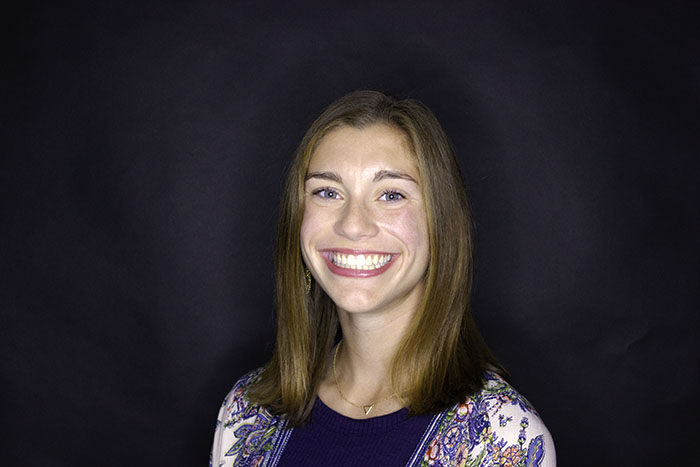 Brenna Cohoon is a senior at DGS and is the Online Sports Editor for the Blueprint.  This is her first year on staff, but she has experience from writing blogs for an Illinois running news website,
ilxctf.com
.
Cohoon is involved at school as a member of the cross country and track teams, as well as NHS, Blue Crew, SAALT, JKB, ACE and the transfer student program.  She is also a PE Leader and works as a tutor in the DGS Literacy Center.
Currently, Cohoon is looking at universities where she can major in journalism or communications and minor in marketing.  Additionally, she wishes to continue her athletic career by running at the collegiate level. After college Cohoon hopes to run professionally and travel abroad.
Outside of school and running, Cohoon enjoys spending time with her family and friends.  She also loves listening to music, taking yoga classes and shopping for her next favorite fashion trend.
Brenna Cohoon, Online Sports Editor
Apr 22, 2020

COVID-19 has created a sense of community

(Story/Media)

Apr 16, 2020

I'm excited for college, but I don't want high school to end sooner

(Story)

Apr 03, 2020

Social media challenges spreading positivity during COVID-19

(Story/Media)

Mar 24, 2020

Top ten positive things about COVID-19

(Story/Media)

Mar 20, 2020

Longing to get back on track: COVID-19 through the eyes of an athlete

(Story/Media)

Mar 12, 2020

Too fanatical? A take on fan interactions at sporting events

(Story)

Mar 10, 2020

Members of DGS speech team qualify for national tournament

(Story)

Feb 26, 2020

Let this week's horoscope inspire your next act of kindness

(Story)

Jan 24, 2020

Backup athletes play 'pivotal role' in team success

(Story)

Jan 22, 2020

What past year's style should you adopt in the new decade?

(Story/Media)

Jan 14, 2020

Girls track and field gears up for 2020 season

(Media)

Dec 17, 2019

Charging on the court, into the minds of two varsity Mustangs

(Story)

Dec 17, 2019

Q&A with Connor Cigrand

(Story)

Dec 06, 2019

Coldplay's most recent music makes 'Everyday Life' more meaningful

(Story/Media)

Dec 05, 2019

A personal account: Running with one shoe

(Story/Media)

Nov 22, 2019

Girls varsity basketball aims to rebound in upcoming season after graduation of two pivotal Mustangs

(Story/Media)

Nov 19, 2019

Top ten things you hear from your family at Thanksgiving dinner

(Story/Media)

Oct 29, 2019

The stresses of Halloween

(Story/Media)

Oct 29, 2019

Girls cross country team takes first at regional meet

(Media)

Oct 24, 2019

Girls cross country strides towards end of season, starting with IHSA Regionals

(Media)

Oct 21, 2019

Red Ribbon Week assembly inspires students in a subtle way

(Story)

Oct 11, 2019

FAFSA Fridays: Application workshops for post-secondary help

(Story/Media)

Oct 04, 2019

Kennedy Warden runs towards the end of her high school cross country career

(Media)

Oct 03, 2019

Athletes' injuries are becoming more than physical

(Story/Media)

Sep 27, 2019

DGS girls cross country dashes towards state title, nationals bid

(Media)

Sep 16, 2019

Boys cross country team runs off of positive dynamic

(Story)

Sep 13, 2019

Friendship Friday: Forever friends

(Story/Media)

Sep 12, 2019

Expectations vs. reality of senior year

(Story/Media)