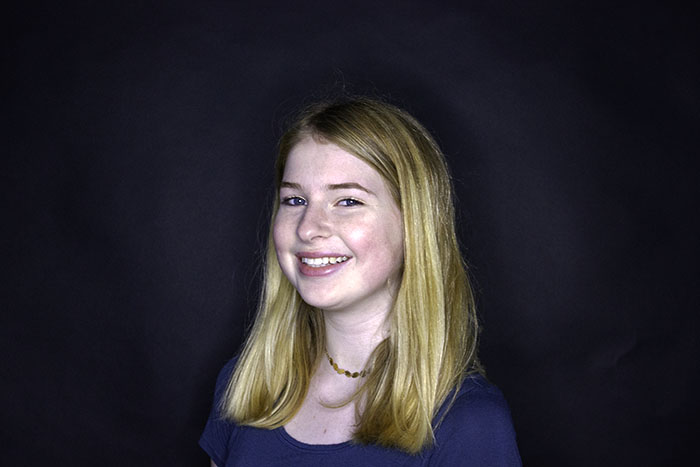 Alison Goulding is a senior and is the Print News Editor for the Blueprint staff. This is her first year on the Blueprint Staff. At DGS, Goulding works for the literacy center as the head tutor and is also involved with Masque and Gavel.
When not in school or doing homework, Goulding spends her time with friends, family and her cat. During the summers and on weekends, Goulding works at Lost Mountain Mini Golf. She can often be found with a good book and some coffee.
After high school Goulding plans to attend college. Some schools she is interested in are Northern Illinois University and Illinois State University. Goulding is still undecided on a major.
Alison Goulding, Print News Editor
May 12, 2020

Missing my last day of high school and what I learned

(Story/Media)

May 07, 2020

Class of 2020 adapts to senior year changes

(Story/Media)

Apr 14, 2020

How grocery stores are operating amidst global pandemic

(Story/Media)

Mar 26, 2020

Conan Gray's debut album 'Kid Krow' soars past expectations

(Story/Media)

Mar 17, 2020

Top Ten things to do during social isolation

(Story/Media)

Mar 16, 2020

Noah Reid 'First Time Out Tour' review

(Story/Media)

Feb 11, 2020

Hey, DGS: Realize why screaming at me as I enter school makes me uncomfortable

(Story)

Feb 07, 2020

Woodridge Village Council amends tobacco minimum age

(Story/Media)

Feb 05, 2020

What 'High School Musical' character are you?

(Story/Media)

Dec 17, 2019

A look at the Winter Art Show

(Story/Media)

Dec 13, 2019

Friendship Friday: Tara Pikey and Rileigh Weber

(Story)

Dec 12, 2019

Some seniors prepare to graduate early

(Story/Media)

Dec 05, 2019

A mediocre day in the neighborhood: 'A Beautiful Day in the Neighborhood' review

(Story)

Nov 22, 2019

The school provides solutions to students' anxious feelings

(Story)

Nov 06, 2019

Boys wrestling prepares for upcoming season

(Story/Media)

Oct 29, 2019

Rex Orange County's 'Pony' stays at a trot instead of a sprint

(Story/Media)

Oct 15, 2019

Top ten ways to use less plastic

(Story/Media)

Oct 11, 2019

'The Politician' has my vote for best Netflix Original show

(Story/Media)

Oct 11, 2019

Construction affects students and staff

(Story)

Oct 09, 2019

Downers Grove opts out of recreational cannabis sales

(Story)

Sep 25, 2019

Get to know a DGS athlete

(Media)

Sep 19, 2019

Clubs decorate wooden panels to cover first floor A-hallway

(Story/Media)

Sep 17, 2019

Powder puff promotes school spirit during homecoming week

(Story/Media)

Sep 12, 2019

What type of person are you at a DGS football game?

(Story)

Dec 03, 2018

'If I'm Being Honest' Dodie's new song is worth listening to

(Story/Media)

Sep 17, 2018

DGS senior Andrew Urban plans to make waves in marine biology

(Story/Media)