The next voice of DGS athletics arrives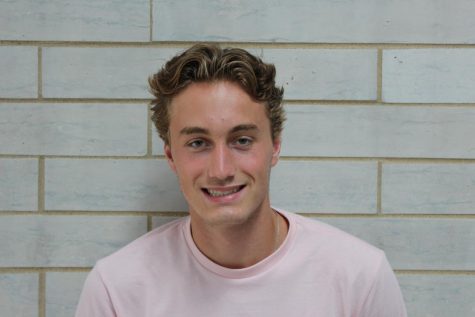 More stories from Michael Piotrowski
DGS English teacher Zach Kuhn is taking over sports announcing duties for the majority of DGS athletics, stepping in for Jim Mizener who recently passed away.
While Kuhn does not lack experience and has worked with Mizener in the past, he is still stepping in for the most well-known voice of DGS athletics. Even though Kuhn doesn't feel a ton of pressure anymore, there is still a large responsibility looming overhead.
"I was the first person to announce a Downers Grove South football game in four decades maybe. When I did it three years ago now I just did one game for him and that was super weird. I don't feel a lot of pressure being up there because I'm never going to be him, I'm not even trying," Kuhn said.
Even though Kuhn doesn't feel he can fully step into those shoes, he is comfortable and confident in what he can do from the booth and the element he adds for DGS athletics.
"The first time we have a packed house with two really good teams playing each other… when it's a close game from beginning to end is probably when I'll feel the most pressure but you don't really notice it," Kuhn said. "I've been announcing girls soccer and girls basketball for 10-11 years."
Kuhn started his announcing career at DGS for only select teams. As Mizener was getting older, Kuhn was able to take some of that workload off his shoulders. Over the years, he further embraced the role and continued pursuing his passion.
DGS Athletic Director Randy Konstans found it very easy to fill this role due to all these factors.
"There are some schools who even go outside of the faculty or the staff to fill those roles… I won't call them professional broadcasters but they are trained and they are very good and Zach's that guy… he's very very good at it," Konstans said. "It was really just a natural fit… that Zach took over the role."
With the football season already kicked off, and basketball to tip in a few months, DGS senior Colin Mitchell highlighted the importance of announcers and the additional element they add to the game.
"[Mr. Kuhn] makes the game better by allowing fans to experience every play better along with giving players a little confidence boost when their name is called out in front of the crowd," Mitchell said.
Kuhn will look to continue his journey in the booth on Sept. 10 with a packed stadium, as DGS takes on DGN in mustang country.
Leave a Comment