The force of marketing is withing
More stories from Abigail Durkin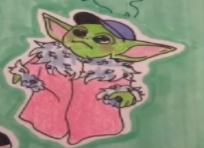 In the midst of a global pandemic, I found myself to be bored in isolation. I would try to watch tv or go on twitter to escape the boredom, but I would instead find myself going through the case results for Covid-19 or election results. Until a little green baby with the name Baby Yoda showed up on my feed, he was so innocent and pure, I couldn't stop myself from getting a Disney Plus account and binge watching The Mandalorian.
I was not alone in this obsession, I mean just search up Mandalorian or Baby Yoda you become overwhelmed with memes, praises, and love for Baby Yoda. Some go as far as to say that Baby Yoda owns the internet, and that's because he was made to. Disney manufactured Baby Yoda to be the "Internet's God".
On Nov. 12, 2019 "Chapter 1: The Mandalorian" was released on Disney Plus. After 36 minutes focusing on the Mandalorian the viewers hear a high pitch coo and see the Baby version of yoda pop his head out of a pile of blankets. The cute innocent noises, big eyes, and more baby-like attributes prove that the new version of yoda was scientifically meant to make you attached to him, much like a baby.
In 1943, Konrad Lorenz, an Austrian zoologist, discovered the principle of attachment, which is how humans form bonds with puppies and baby ducks. This is called the "kindchenschema concept", where physical features such as a round face and big eyes, activate the maternal side in people. Therefore, when you see a baby version of a duck, puppy, or even yoda your maternal instincts force you to be attached.
An Oxford study, On cuteness: Unlocking the parental brain and beyond, states "Cuteness is not limited to visual infant features, but is also found in positive sounds and smells." Although Baby Yoda can't be smelled through the screen, his cute and innocent sounds can be heard, which is enough to trigger anyones nurturing instincts.
Disney, who owns and releases the Mandalorian, was facing a decrease in sales in Oct. 2019. This was a month before the first episode of Mandalorian was released in Nov. So Disney really needed "The Mandalorian" to deliver which meant: more subscribers.
Luckily for Disney Mandalorian delivered, season one gave Disney Plus an estimated 26.5 million subscribers, and after season two that 26.5 turned into 60.5 million subscribers. The Disney shares have also recently increased by 12 percent on Dec. 11, 2020. However, the Mandalorian link to Star Wars proved to not be the major grab to watch, instead it turned out to be Baby Yoda.
Baby Yoda's ability to snatch the attention of millions to watch the Mandalorian was based off of Disney's heavily forced social media presence. Since the first episode, and even during the 2020 Candidates for President were being released, #BabyYoda has trended on twitter. He has even beat the new royal baby for the top google searches in the year 2019, meaning that Baby Yoda took over the internet and gave Disney a huge check at the same time.
Besides Baby Yoda's impact on new subscribers for Disney Plus, he also helped increase the sales for merchandise. Although Disney at first lost about $2.7 million for not producing merchandise after the first season. Disney now the #1 sold toys on amazon, officially increasing toy sales.
Although, it might be argued that the creators of the show care too much about the show to waste screen time for an extra smile or baby noise from Baby Yoda. So, I decided to take it into my own hands by tallying every single time Baby Yoda is shown when not relevant for three of the episodes. The conclusion is that Baby Yoda has 5 times the amount of non-relevant solo shot seconds compared to every other character, which uses 5% of the budget.
During the TCA Winter Press Tour Adam Pally, actor on The Mandalorian, spoke on the costs. "I just want to let you know that this is the hero [Baby Yoda] and it costs, like, $5 million" Pally, said.
This makes sense since Disney's marketing strategy has always been about selling cuteness. From Chip in Beauty in the beast, Olaf in Frozen, and Jack-Jack in Incredibles. So it makes sense that they would do the same for Baby Yoda. The director and executive producer Dave Filoni even stated that Baby Yoda's first appearance was based on "E.T the Extra-Terrestrial" one of the most successful films about an alien life form.
Overall, Baby Yoda has proven to conquer the world based on science, marketing techniques, and mystery. So it makes sense that so many people, including myself, are finding themselves becoming obsessed with this green baby. As long as they keep in mind that Baby Yoda no matter how young he looks, he is 50 years old and not a real baby.