District 99 starting 2020-2021 school year fully remote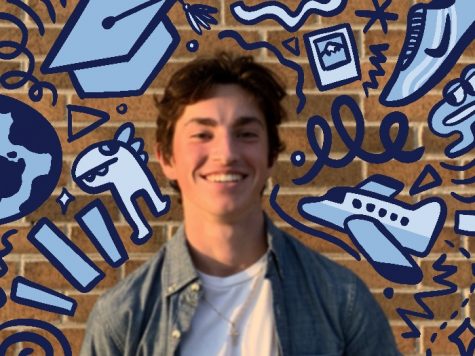 More stories from Luc Alvarez
On Aug. 12, District 99 announced via email that the district will be going fully remote to begin the school year due to updated, more restrictive ISBE health guidelines. Sports and activities will continue as scheduled and a combined pick-up day for PPE and school materials is currently being planned.
The week of Aug. 17 will still follow the modified hybrid schedule for both freshmen and sophomores through seniors. Beginning the week of Aug. 24, the district will move to its fully remote schedule.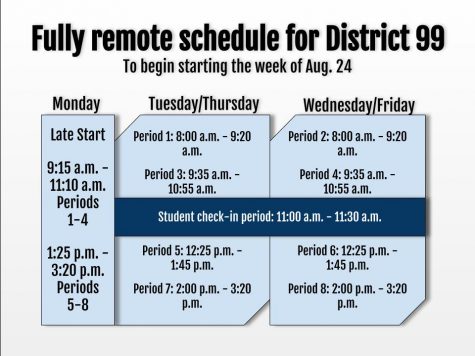 Superintendent Dr. Hank Thiele explained what would need to take place for the district to return to the hybrid plan.
"We need some time to work through all of the new guidance to determine the procedures that need to be in place to bring students back to in-person learning," Thiele said.
Currently, many things about the school year remain uncertain. While Thiele did say that the district will continue to provide meals, Chromebooks and Wi-Fi to students who need them, he was unable to predict the likelihood of a return to the hybrid plan or a "remote-for-most" plan discussed in past board meetings, the October SAT taking place as scheduled or the practicality of fully staffing District 99 schools for in-person learning.
The rationale for the move to fully remote learning came in a follow-up email, sent to students and parents Aug. 13, that explained in further detail the changes to the ISBE guidelines that made returning to school implausible.
Specific concerns raised included the new definition of "close contact." This adds new challenges as the post said "the running 24-hour clock for any two days is an extremely difficult accumulation of time to account for – especially in a high school where students could share time in a passing period, on a bus, in common areas, in an activity or sport, or in a classroom."
This new definition for close contact will require new methods of contact tracing for the district to return to in-person learning.
The new guidelines also require anyone exhibiting COVID-19-like symptoms to be tested. Currently, District 99 does not have the testing capability to meet this need. It's likely that many students and teachers would be forced to quarantine for 10 days, even though many COVID-19 symptoms are not specific to the virus and are seen in people with allergies or the common cold.
These are not the only challenges the district is facing in attempting to plan a school day in accordance with these new guidelines. While administration will try to adapt to return to in-person learning, teachers are also adapting to the news of fully remote learning.
One of these individuals is science teacher Stephen Zownorega who believes that the human connection will be the thing most impacted by fully remote learning.
"I don't believe anything can replace the face to face conversation, as zoom meetings do not show all of the idiosyncrasies with conversations. I will miss the ability for students to have side conversations, the comradery that occurs between students within a passing period and the daily check-ins that teachers have had with students when they walk into your classroom door. I hope to create similar alternatives by using technology, but I am afraid that the human element might be lost within the screen," Zownorega said.
As teachers adapt to fully remote learning, many students hope there will be improvements made upon last spring's remote learning. Incoming sophomore Maggie Stanley spoke on what she hopes is different from last year.
"I did not really enjoy remote learning in the spring because I felt like it was too flexible. There wasn't really a beginning and end to the day, and I never knew when I did enough work. I hope this year there will be more structure to the school days so I have a clear end and beginning to the day," Stanley said.
Hopefully for students and teachers, this prior experience will help to improve remote learning. Zownorega believes that he himself can use the lessons he learned while teaching remotely to improve remote learning for his students.
"During the spring remote learning experience, I learned a lot about how to run an online class… During that time I felt like a new teacher because I had to develop a new set of strategies and systems due to the new environment. Those lessons will hopefully translate into a much smoother, more beneficial classroom environment in remote learning this fall," Zownorega said.
Leave a Comment