Cohoon runs to the end of her high school career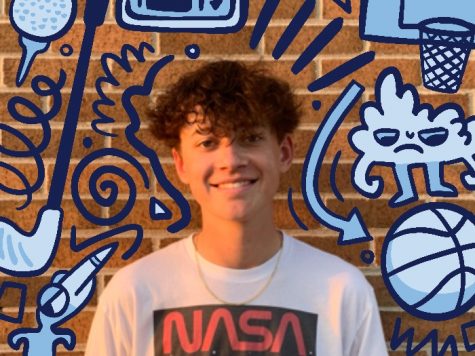 More stories from Andrew Calek
Spectators are lined up all around the finish line trying to get as close as they can to the ropes. People begin to cheer, cowbells begin to be rung and coaches begin encouraging their runners to finish strong as we see the lead pack come out of the woods. The cheers became louder as the lead pack comes closer to the finish line, the runners are fighting for first place and among them is senior Brenna Cohoon. 
Cohoon is the number one runner for the DGS girls cross country team and is involved in ACE, Life of a Mustang (formerly JKB and SAALT), Blue Crew, NHS, the transfer student program, PE leading and is a Literacy Center tutor. Cohoon has contributed a lot to the team's success including helping the team win conference all four years, 2016, 2017 and 2018 regional championships, 2016 and 2018 sectional championships and place fourth, fifth and third at state in the last three years. Cohoon hopes that she can pass on some of the keys to her success to her teammates.
"I like to think of myself as someone who leads by example. I am always trying to promote a strong work ethic that the rest of the team can follow and just being a positive role model to other girls on the team so that they know the expectations of our team," Cohoon said. 
Cohoon is very proud of how she has performed during her four years and how the team has developed. She is especially proud of her race at the Illinois state meet last year.
"I personally think I'm most proud of how I raced last year at state. I was really happy to finish in the top ten and run under seventeen minutes for the first time. Similarly, I was really proud of how the team performed at state that year, finishing in the top three was one of our goals for the last few years. We were happy to finally trophy," Cohoon said. 
Cohoon has always had a passion for running, and it's something her parents noticed at a young age. 
"I started when I was in fifth grade, that's when I started doing track, and then I began cross country in sixth grade…. I started running because it was something that my parents noticed and that I had a natural talent for… my parents were the ones who encouraged me to start running. My grandfather used to be a runner and coached running at DGS himself so he's someone who just continually supported me throughout running in high school," Cohoon said.
The team atmosphere and the love for running have been the thing that keeps bringing her to continue running. It's the same thing that some don't understand. 
"I just love the comradery from it. A lot of people don't really understand how close everyone can get even though it's a pretty individual sport at times, and I think people don't realize how well we work together as a team," Cohoon said. 
The head cross-country coach, Douglas Plunkett, has seen Cohoon develop over her years at DGS. Starting at summer camp before Cohoon's freshman year, he saw potential in the young runner. 
"I thought 'I hope she comes out for cross-country and not for volleyball'….she's become a student of the sport and has grown a lot with not just showing up to practice and running, but understanding why she's doing what she's doing and being able to appreciate the running community and what that all means," Plunkett said. 
Plunkett has a few goals for Cohoon through the rest of her senior season. Plunkett also looks back at her high school career in depth. 
"We are better. Over the last four years, she's helped raise the bar in terms of how good we can be and what the expectations are for all the girls…this season the biggest goal we have for her would be to finish in the top five in the state," Plunkett said. 
Teammate of Cohoon, Kennedy Warden, has been there by Cohoon's side all throughout high school and seen her grow as a runner and teammate. 
"Brenna has definitely become a better leader and turned into a role model for a lot of girls on the team… She is always making sure everyone is working hard but having fun at the same time. She definitely teaches everyone else on the team to work hard and [she] motivates many [of us]," Warden said.
Warden looking to her own future is also looking to Cohoon's future in running and life after high school.
"In the future, I can see Brenna being a marathon runner and being an awesome sports journalist at the same time," Warden said. 
Editor of Dyestat.com and interviewer for Runnerspace.com and Dyestat.com, Mike Newman, has also been a person of influence and sees Cohoon as a runner and as a writer. 
"The sky's the limit for Cohoon in both running and writing. She is coachable in both areas and also shows the talent to be great. I try to write to her every week telling her plus and minus aspects of each week's blog and she works on that area of her writing in the next blog," Newman said. 
Newman has interviewed Cohoon many times after her cross-country and track meets over the past four years and finds that Cohoon is more of a team player than an individual.
"It is very easy to communicate with her. I have interviewed her a couple of times after races and have never had a problem with regards to expressing her opinion [and] feelings after a race. Always a great teammate, she would rather talk about them instead of herself," Newman said. 
Cohoon continues to wrap up her 2019 cross-country season and is looking forward to track in the spring before she continues her running and writing in college next fall. 
"Just to enjoy the process, its something that's really cliche, but I think that a lot of people will overlook the importance of making sure you are taking things day by day instead of always being hyper-focused on the end goals. It helps you to be inside of yourself and just live in the moment," Cohoon said.