Just getting started: Preskar pursues life in the musical spotlight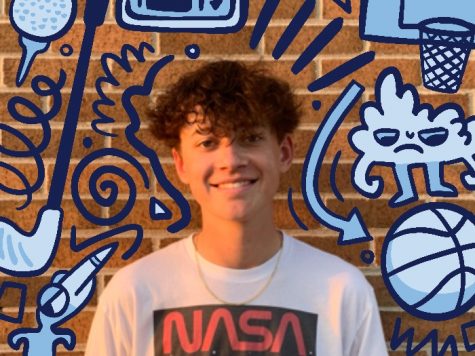 More stories from Andrew Calek
The definition of an artist is someone who practices any of the various creative arts such as sculptor, novelist, poet or filmmaker. There are various types of artists but one specifically is a musical artist. Music artists have been on the rise in the last 20 years and are shining a light on high school students.
One of these students in particular is DGS senior, Brendan Preskar, otherwise known as "BP." Preskar began writing music in eighth grade and has grown his love for the arts ever since.
Preskar explains why he started making music in the first place.
"Music for me has always been a coping mechanism and I believe that it is for everybody. It gets us through the day. When there is something going on in my life, I know that there is someone else out there that feels that same way and is going through something similar. The relatability aspect makes me want to share it with the world," Preskar said.
Preskar began recording when he was a sophomore at DGS where he had a microphone and sound panels taped around his closet. Now he is in and out of the city doing photoshoots and recording in professional studios.
No journey in anything can be done alone. Preskar describes the support he has received in these last couple years.
"I am extremely lucky for the support that I've got so far. All of that stuff added up and I wouldn't be in that spot I am today without that being in my life and I'm extremely grateful for it. The support overall has been something great for me as an artist who needs aid since I can't do this on my own and I'm just appreciative for the people that got me to where I am today," Preskar said.
Everyone has something or someone who brings out emotion and passion in themselves. Preskar illustrates how writing lyrics brings out that excited sensation in him.
"Putting life into lyrics that I couldn't even put into words is a feeling that I live for. When I'm in the studio creating music it's like Christmas morning as a kid… having a Christmas morning multiple times a week is one of the things that just puts a smile on my face and I really love it. I fell in love with the process a few years ago and ever since then I've just been taking steps up from where it started," Preskar said.
Music is personal to the artist themselves. Without the genuine aspect, there is no creativity. Preskar describes how his music is different from other artists.
"My favorite thing about my music is the authenticity; real feelings to real problems. Nothing that I have ever put into a song has been a lie and I love creating stories and working on real projects. Something tangible is different from the rest and for me, my music is very personal to me, who I am, what I've gone through, what I've succeeded in and that's really what authenticity is," Preskar said.
Every artist has had their own pathway into the music industry. Preskar elaborates on his journey as he has entered this field.
"It's been a lot of ups and downs….the problems you face and the adversity but that is really what the journey is. During this process, it's one of the best things about it is seeing your own growth and it makes you extremely proud and makes you realize what you're capable of. The best thing about it for me is that the journey has just started," Preskar said.
Regret is a huge part of people's lives and a huge part of growing up. Every decision you make could come with fulfillment or regret. Preskar explains the toll going down this path has brought to his life.
"I've never wanted to give up, that has never been a question in my head. What did affect me a lot was a negative rough patch that I went through from 16-18 years old. That was when I had to look in the mirror and say okay your backs against the wall and this is where you define who you are. As an artist and a human being if you can face that adversity and get back up from it that is what is going to put you in a better spot in the future," Preskar said.
Fighting through adversity is something every music artist has had to face on their road to glory. Preskar clarifies who his biggest role models are in the music industry.
"Mac Miller and A$AP Rocky are the most impactful artists for me and they have brought the most influence in my opinion. I will always strive to have that within myself like thinking outside the box and I respect them for being different. To the ones younger than you, you are a pioneer and to me, Mac and A$AP are my pioneers," Preskar said.
Aspirations are your motivating factor about your future and where you want to be. Preskar explains where he hopes to be ten years from now.
"In ten years hopefully I am a rolling stone….to get to that point of being a rolling stone comes with gaining respect and you have to go through a lot of obstacles to gain it. That is what I will go through for the next decade but the sky is not the limit," Preskar said.
Preskar is currently working on his first extended play record (EP). He has four songs released as of today with much more to come in the future. Check him out on souncloud and instagram.