El Minya to Downers Grove: Girgis Abd finds home on wrestling mat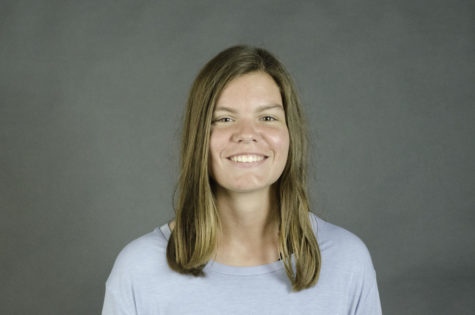 More stories from Sarah Major
Streaks of black, white and red fly through the air as the Egyptian flag flutters in the wind, gripped tightly by two hands. On a blue canvas mat 75 feet away, the wrestler careens his opponent to gain leverage. Squaring his hips and digging his feet into the mat, he gains control and pins his opponent.
As the referee extends his arm outwards, counting–one, two, three–shouting fills the air. It's Ramy Abd standing in the front row of the bleachers, waving the Egyptian flag and supporting his brother, DGS senior Girgis Abd, as he adds another victory to his stellar high school wrestling resumé.
Members of the Abd family encouraging one another has become a common occurrence. The family immigrated to America from El Minya, Egypt in 2012 seeking better education opportunities for the children in the family. However, because no one in the family knew how to speak English, the move was not without challenges.
"I came here, and I had zero English. I didn't know anything, like zero words in English. I didn't even know how to say hi or bye. I went through a hard time the first two years … To communicate with people is one of the hardest things," Girgis Abd said.
Abd and the rest of his siblings have all been involved in the English Language Learners (ELL) program at DGS. After testing into level two, the second lowest level of the program, Abd dedicated himself to learning the language and has since graduated from the ELL program. Abd attributes his success to ELL teacher Katherine Klaeren.
"Ms. Klaeren, she helped me a lot. She was the one who had a real impact on me. She helped me get through my hard years, like first year [freshman year] it was kind of hard for me, she helped me get through it," Abd said.
Klaeren spoke to Abd's growth, both as a student and as an individual.
"He started out very immature and not knowing much English at all, and now he's kind of a stand-up student. He's responsible and his English has really improved," Klaeren said.
Ramy Abd, the oldest child in the family, was a three-year member of the DGS wrestling program and has become Girgis Abd's biggest fan. Varsity wrestling coach Sean Lovelace, who has personally coached both brothers and also had Ramy Abd in his math class, elaborated on the impact that Ramy Abd had on his younger brother.
"Ramy's kind of served as his direct role model … Girgis would not be who he is today–not only as a wrestler but as an individual–without Ramy. Ramy's been a huge influence on him," Lovelace said.
Ramy Abd spoke to how much he values being a role model for his younger brother.
"I'm [honored to be a] role model in his life. I just want to give him everything I didn't have before," Ramy Abd said.
Like every other aspect of life at the time, Girgis Abd's wrestling career was complicated by the fact that, for the first two years of high school, he had no idea what anyone around him was saying. Encouragement from teammates and advice from coaches went misunderstood as Girgis Abd struggled to gain confidence on the mat. Despite its challenges, however, Girgis Abd views the lessons learned from those two challenging years as valuable.
"I've learned that I should never give up on something that I can't do. Like I could've given up the first two years of wrestling because I didn't know what the coaches were saying around me. I could've given up there, but I didn't, and I kept going," Girgis Abd said.
After competing in his first varsity match as a sophomore, Girgis Abd spent his entire junior season as the varsity team's starting 126 pound wrestler. This year, he's bounced between JV and varsity at 132 and 138 pounds. Lovelace discussed the role that Girgis Abd has played in the program this season.
"He's a team-first guy. He would go down to a weight if we needed him to, he would bump up to a weight if we needed him to. This year's been tough because like I said, he was the starting varsity kid [last year] … and he hasn't probably gotten as many varsity matches [this year] as he would've wanted. But he's never pouted about it. That's huge to have someone who could be salty or could throw a fit but not at all. I think if anything he's more into it," Lovelace said.
Junior Matt Straus, who frequently partners with Girgis Abd at practice, echoed the same sentiment regarding Girgis Abd's dedication and value to the program.
"Girgis has a type of work ethic you can't teach. He has this motor that keeps going even when he's tired. He doesn't make excuses and he tells me when I do something good or if I need to work on something. Without Girgis in the room, I believe our team chemistry and overall positivity would not be where it is today," Straus said.
According to another one of Girgis Abd's teammates, senior Jack Neumann, Girgis Abd's commitment to the DGS wrestling program comes as no surprise.
"He's a big family guy and his family is very important to him, both his biological one and his wrestling one. He takes a lot of pride in being a wrestler," Neumann said.
While Ramy and Girgis Abd are two prominent members of the DGS ELL program who have joined the wrestling team in recent years, Lovelace discussed the overall diversity of athletes who participate in the DGS wrestling program.
"We take for granted how scary that must be, how intimidating that must be, in a school of 3,000, that there's only a few people–really only a small network of people–who are really like how you are. I think them being able to expand out and be able to get involved in something within the school, it's been huge. They're a part of a team, we embrace the fact that we have people from all over the globe, from all walks of life, and that's kind of one of our things," Lovelace said.
Klaeren emphasized the importance of ELL students' participation in extracurricular activities, explaining the benefits it offers.
"For an ELL student, it helps with their English growth and it helps them to feel more connected to the school in general and realize who their resources are and who they can go to and make more friends and just feel more connected to the community," Klaeren said.
In Girgis Abd's case, not only has wrestling helped with the development of his English skills, but it has also given him an opportunity to influence younger athletes. Freshman Robert Major commented on the impact that Girgis Abd has had on him as a wrestler and individual.
"[He's taught me that] If you try hard and put forth your best effort, you will never be disappointed in your results … Girgis has done so much for me and is such a great teammate to have," Major said.
Wandering over to his brother following his match, Girgis Abd finds himself wrapped in a hug from his older brother and role model, the Egyptian flag clutched in Ramy Abd's hand. For a family that has experienced such immense change since their arrival in America five years ago, the importance of family and dedication remains steadfast.
View Comments (1)