Gannaway's gigantic dilemma: a complicated college decision
Hang on for a minute...we're trying to find some more stories you might like.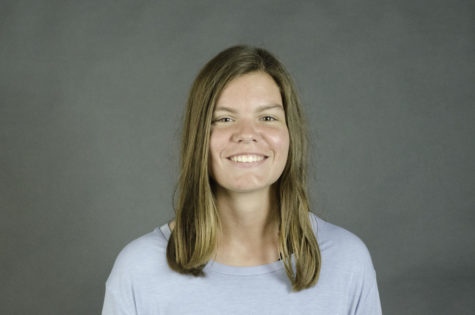 More stories from Sarah Major
According to College Board, the organization behind Advanced Placement (AP) tests, the typical high school senior should apply to anywhere between five and eight colleges–two to three safety schools, two to three probable schools and one to two reach schools.
For DGS senior Emma Gannaway, the college search has been anything but typical. Gannaway has already applied to 12 colleges, and plans to apply to a total of 20 before making her final decision.
While the typical student knows what qualities they want in a college — overall size, geographical location, athletics, class size — Gannaway only looked for colleges that fulfilled the three things that matter most to her: her major, research opportunities and internship opportunities.
"I don't really care about what size the school is, stuff like location, things like that. I more just care about my major, research opportunities, and internships," Gannaway said.
Gannaway's friend, Alex Mecklenburg, applied to six schools and will be attending Central Michigan University next fall. Mecklenburg explained her reaction when she found out that Gannaway was applying to so many colleges.
"She's crazy for applying to so many, but she's very indecisive so I wasn't particularly surprised," Mecklenburg said.
Gannaway's goal after graduating from college is to establish a non-profit organization that supports children who suffer from chronic illnesses or live with mental illnesses. Her plan for choosing a major, although not entirely decided, has been narrowed down to a combination of four choices.
"[I want to major in a combination of] Sociology, psychology and pre-med or neuroscience," Gannaway said.
The Common Application is a free service that allows students to fill out a single application and send it to multiple schools. For a student like Gannaway, the Common App would simplify and expedite the application process. However, for the majority of her potential colleges, Gannaway had to fill out school-specific applications.
"The majority of them were through the universities … For some of my schools, I had to apply Common App and through the university. I didn't know that once you tell Mrs. Lichaj that it's going either Common App or university you can't change it. But then some of the universities told me I had to do it through the university, so I had submit it both ways in order for the university to get what they needed," Gannaway said.
Ann Lichaj, the secretary in the College and Career Center, is responsible for sending transcripts and letters of recommendation to colleges for every single DGS seniors' application. She explained that while Gannaway's case is extreme, the internet makes the college application process fairly simple for both Lichaj and the applicant.
"With technology it does help a lot if she's using Common App or even within the university's application … Because naviance is very helpful with that. Students here at South are so, so lucky that we do have some tools like that and it makes faster for me to submit it all electronically," Lichaj said.
Although the college application process can be stressful, Gannaway finds reassurance in the acceptances she has already received, and looks forward to attending one of her potential twenty schools, Augustana College and Bradley University being at the top of her long list, next fall.
"I've definitely broke down a couple of times … The way I handle it best is that I've gotten into colleges, so I know that no matter what happens I have a chance at college," Gannaway said.