There is an immense joy that is matched by no other: using a sharp pencil. Touching that beautifully sharp tip to the untouched paper as the lead shows up so awesomely bold is euphoric. Then, the unthinkable: the lead disappointingly falls out of the pencil, and now it's useless.
One would naturally go to their local pencil sharpener and get everything up and working again. Unfortunately some of the classrooms in DGS lack a basic functioning pencil sharpener. There's no worse feeling than not being able to fit a pencil in or it getting ruthlessly torn up as the lead turns out horrible.
Of course, many will point to the mechanical pencil as the solution to the sharpener issue. However, the No.2 simply remains my preferred method of writing. Why should the No.2 users not have adequate sharpening stations?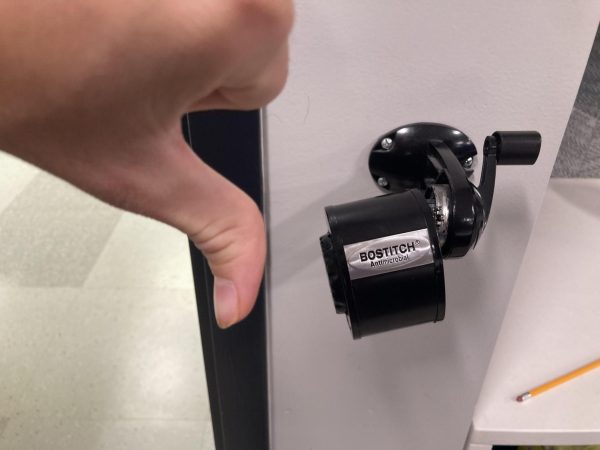 Mechanical pencils also snap extremely easily to the point where writing with one feels as though I'm disabling a bomb. One wrong pencil stroke and the lead is sent careening out.
Oh, but still more cry out for the erasable pen. Erasable pens are pretty solid, but on any sort of test or essay I want my trusty No.2. It doesn't feel right if I'm not taking my lead down to the nub after writing 3 pages of a prose essay for AP Literature.
The No.2 is also a cornerstone for Scantrons and math, yet the pencil sharpener epidemic remains. In my AP Statistics class I was highly disappointed to find the whole entire sharpening unit completely out of place and dangling on by a thread. I just had to rough it with my dull pencil which certainly negatively impacted my ability to learn.
There's too many classrooms that are like this, but when there's an automatic pencil sharpener it's an oasis in a desert of dull pencils and faded writing. The pure satisfaction of a pencil going from not sharpened what-so-ever to completely sharp is just so purely great. Every room should have an automatic pencil sharpening machine.
Gone will be the days of laboriously cranking a manual pencil sharpener as the lead becomes a mangled mess. It will be a glorious future indeed.